Jurors on Tuesday considered whether a Kansas State University professor's murder-related Internet searches were a creative-writing pursuit or evidence of a mind bent on violence.
A Lawrence police detective told jurors that in the weeks before the stabbing and beating death of Thomas E. Murray's ex-wife, Murray's computers were used to search the Internet for terms including "the best way to murder someone," "how to hire an assassin" and "how to poison someone."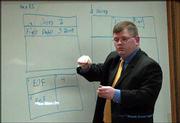 Under cross-examination by defense attorney Bob Eye, Detective Dean Brown acknowledged he hadn't searched Murray's Internet history looking for the terms "scripts" or "TV shows."
Murray's explanation for the searches is that he was considering moving to California and writing for crime-scene TV shows if his ex-wife, Carmin D. Ross, took the couple's daughter there to live with her new love interest.
Brown, a forensic computer examiner on loan to the FBI's Heart of America Regional Forensic Computer Laboratory in Kansas City, was one of the prosecution's last witnesses. It's possible attorneys could reach closing arguments in the trial by the end of the week.
Much of what Brown found on Murray's computer had been described in December at a preliminary hearing. But he testified for the first time about a series of recovered e-mails found on Murray's computer in which the professor describes a looming child-custody battle with Ross
"I'm increasingly coming to feel like an animal being backed into a corner, and it's not a good feeling, believe me," one of the messages states.
In another, he writes that if it weren't for his daughter, Ciara, he wouldn't want to have any more contact with Ross.
"But, alas, we're joined at the hip by Ciara, and probably will be till one of us dies," the message states.
Brown testified that in addition to the murder-related searches, Murray searched for information about United States extradition law.
Eye asked whether any of the sites about the best way to murder someone listed bludgeoning or stabbing, the methods by which Ross died. Brown said he did specifically remember seeing something about bludgeoning.
In another document Brown salvaged from Murray's computer, an apparent e-mail written to an unknown person, Murray mentions he might have to move to California but doesn't mention script writing.
"I don't have a clue what I'd do for money when I get there," the e-mail states.
In court Tuesday, Lawrence Police Detective Dean Brown testified that on Oct. 22, 2003, Thomas E. Murray's computer was used to search the Internet for the following terms:"murder for hire" at 11:25 a.m."how to hire an assassin" at 11:26 a.m."how to make a bomb" at 12:54 p.m."how to kill someone quickly and quietly" at 1:15 p.m."how to kill someone" at 1:20 p.m."saxotoxin" at 1:26 p.m."where to find saxotoxin" at 1:28 p.m."how to get saxotoxin" at 1:28 p.m."sarotoxin" at 2:34 p.m."the best way to murder someone" at 3:24 p.m."how to poison someone" at 3:29 p.m.
Copyright 2018 The Lawrence Journal-World. All rights reserved. This material may not be published, broadcast, rewritten or redistributed. We strive to uphold our values for every story published.