Damascus, Syria — Syria will redeploy its Lebanon-based troops to Lebanon's Bekaa Valley and from there to the Syrian border, President Bashar Assad said Saturday in a delicately worded speech designed to defuse international pressure for a full and immediate withdrawal.
"Our way is a gradual and organized withdrawal," Assad told Syrian lawmakers in a rare, nationally televised address to parliament as 3,000 demonstrators outside chanted pro-Syrian slogans and held posters denouncing the United States.
The phased pullback was announced with no timetable.
A U.N. resolution calls for the withdrawal of all foreign forces. The Bush administration has called on Syria to remove its 15,000 troops, and additional intelligence agents before Lebanese elections scheduled for May.
"A Syrian withdrawal of all its military and intelligence personnel would help ensure that the Lebanese elections occur as scheduled in the spring, and that they will be free and fair," President Bush said in his weekly radio address.
Syria has maintained troops in Lebanon since 1976. It sent them under an Arab League mandate as peacekeepers during Lebanon's 1975-1990 civil war.
Many Lebanese resent the presence of Syrian troops and agents and Syria's dominion over Lebanese political and economic life.
Assad said that since 2000 Syria had voluntarily removed more than 60 percent of the 40,000 troops once stationed in Lebanon.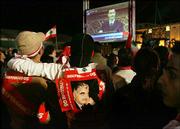 He said further troop removals should be negotiated bilaterally with Lebanon under the 1989 Arab-brokered Taif Accords, which ended Lebanon's civil war, and not through international intervention.
While many Syrians expressed relief that Assad's words would turn down the heat on Syria, some opposition figures felt he should have gone further.
In Beirut, about 2,000 Lebanese gathered downtown in Martyrs' Square to watch a telecast of the speech. Hundreds waved Lebanese flags.
"Hey y'allah, Syria get out," they shouted, using the Arabic slang for "hurry up."
Copyright 2018 The Lawrence Journal-World. All rights reserved. This material may not be published, broadcast, rewritten or redistributed. We strive to uphold our values for every story published.