Beirut, Lebanon — Trying to ease incessant Arab and international pressure and the risk of isolation, Syrian President Bashar Assad is moving to pull his troops in Lebanon back toward Syria's border. But the step, short of a full withdrawal, was bluntly rejected Friday by President Bush.
Assad was expected to announce the pullback in an address to parliament today in Damascus, a Syrian diplomat said Friday. The speech comes after a rough week for Assad, beginning with the resignation of his allied government in Lebanon and ending with the Saudi Crown Prince Abdullah telling him face-to-face to get all his forces out of Lebanon quickly.
But a redeployment -- moving Syrian forces to eastern Lebanon, closer to the Syrian border -- would likely not satisfy Arab leaders. Bush dismissed it as a "half-measure."
"When the United States and France say withdraw, we mean complete withdrawal, no halfhearted measures," Bush said in New Jersey.
Bush said he wanted Syria's 15,000 troops and its intelligence agents out of Lebanon by May, when Lebanese parliamentary elections are to be held.
"This is nonnegotiable. It is time to get out," he said in an interview published Friday in the New York Post.
Bush told the newspaper there was no threat of military action. But Arab nations are worried the United States or the United Nations could take tough measures to push Syria into leaving Lebanon, which Damascus has dominated for decades.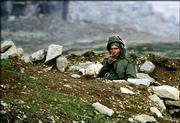 To avoid such intervention, Saudi Arabia and Egypt are leading Arab efforts to get Damascus to go beyond just a redeployment and quickly remove all Syrian troops.
Syria also faces pressure from the opposition in Lebanon, which forced the resignation of the pro-Damascus government Monday with an extraordinary protest by 25,000 people, fueled by anger about the assassination two weeks earlier of former Prime Minister Rafik Hariri. Many Lebanese blame Syria and the Lebanese government for the killing; both deny any involvement.
Copyright 2018 The Associated Press. All rights reserved. This material may not be published, broadcast, rewritten or redistributed. We strive to uphold our values for every story published.