Spring is so close it's palpable in the air. Let us be gone with all of the dull browns of winter and re-introduce a palette of color to our weary landscape.
Say hello to cold-season annuals.
Annuals are generally grouped into three categories: hardy, half-hardy and tender. Cold-season annuals are usually hardy and can with stand fairly frigid temperatures and even a frost or two, although it is best to plant them once the threat of frost has passed.
Cold-loving annuals will do well planted in containers, which is nice because they are transportable and easy to bring indoors in case of a freak snow- storm. However, they look best intermingled among spring flowering bulbs, and the ground will keep these annuals warmer than a container.
Some cold-tolerant annuals are pansies, violas, sweet alyssum, stock, snapdragons, dianthus, sweet peas, forget-me-nots, calendula, lobelias, ornamental kale and cabbage, mustard and Swiss chard.
Ann Peuser, owner and manager of Clinton Parkway Nursery, advises to make sure any early annuals you buy have been kept outside.
"If they have not been hardened off, it will take you a week to 10 days to do so at home by moving them outside in the day and in at night," she says. Peuser also suggests not planting annuals until the ground is dried out.
According to The American Gardener Magazine, there are five cold season annuals that a gardener can really rely on: pansies, violas, dianthus, snapdragons, and ornamental kale and cabbage.
Pansies and violas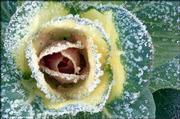 Pansies and violas are considered the kings of cold-tolerant annuals. They both display a distinctive and cheerful "face" with their five-petal flowers that bloom in early spring -- even when temperatures are in the 20s.
The pansy was named for the Swedish botanist V.B. Wittrock, who did extensive breeding work on the flower in the late 19th century and early 20th century. He crossed and back-crossed several viola species, which were all alpine natives. Pansies are, in fact, biennials or short-lived perennials but are most commonly grown as annuals.
"Pansies are probably my favorites," Peuser says of the cold-loving annuals. "I prefer planting them in the fall. They seem to produce a bigger, brighter and bolder flower. But if you plant them now, they will still put on a great show of color. I especially love mixing my pansies in with tulip bulbs; the combination is fantastic."
The viola, which is closely related to the pansy, is generally a more petite plant producing a smaller flower than the pansy. However, violas tend to have more abundant blooms. They also are more tolerant of heat, last longer in the garden and tend to re-seed themselves to bring color back to the garden year after year. Their colors range from white to nearly black, from bright colors to muted pastels, so no matter what the color scheme of the garden, a viola will fit right in.
Pansies: Universal Plus, Bingo Blue Blotch, Nature Blue, Dynamite Lavender, Dynamite Ocean, Iona Frosty Lemon, Nature BeaconViolas: Penny, Sorbet Coconut Swirl, Hobbit Bilbo Baggins, Sorbet Yellow Delight, Gem Yellow, Sorbet Blackberry Cream, Penny Violet FlareDianthus: Joan's Blood, Little Jock, La BourbouleSnapdragon: Tom Thumb, Montego, Floral ShowersKale and cabbage: Tokyo, Pigeon, Peacock, Coral
More options
Dianthus are another cold-loving annual that are worthy of introducing to your garden space. The taller dianthus have a wildflower look and make a good background plant. They grow best in well-drained, neutral to slightly alkaline soil in full sun. The dianthus plant has an interesting spiky foliage which will add great texture to any garden plan.
Snapdragons often can be seen in flower arrangements that come to your door, but they also are excellent cold-season annuals to incorporate into your garden. North of zone 7, snapdragons can be planted after the danger of a hard freeze has passed. They provide beautiful early spring color and are best grown in part-shade in Kansas because of the state's severe summers.
Ornamental kale and cabbage are non-flowering plants that are edible. They are extremely easy to grow, tolerate temperatures well below freezing and will remain attractive for months on end. In fact, they often develop their best color after a few frosts. The textural interest that kale and cabbage bring to a garden is what makes these cold-lovers such showstoppers.
The arbitrary basis for distinguishing between ornamental cabbage and kale comes from their leaf margins. A smooth leaf margin earns the name cabbage, while a fringed or feathered margin is considered kale.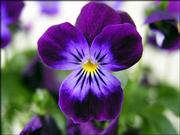 "Kale is cool," Peuser says. "You have to acquire a taste for the look. I think the white kale with the pink center is absolutely gorgeous."
A gardener also may consider adding some Swiss chard and lettuce to their cold-loving annuals shopping list.
"Some of the colored vegetables are amazingly beautiful," Peuser says. "And they allow you to have your cake and eat it too, particularly in the lettuce family, which can endure colder temperatures and provide an interesting display of texture and color."
So shake off those winter doldrums by splashing your landscape with color and texture. Add hardy cold-loving annuals to appease your need for warm, sunny days and, with any luck, before we know it we'll be introducing tender annuals to the garden.
Sources: www.pallensmith.com, www.bachmans.com
Copyright 2018 The Lawrence Journal-World. All rights reserved. This material may not be published, broadcast, rewritten or redistributed. We strive to uphold our values for every story published.