Kansas City, Mo. — Yellow Roadway Corp. should have an easier time merging with rival USF Corp. than did its predecessors when they combined in 2003, benefiting from the experience of joining Yellow Corp. and Roadway Corp., analysts said Monday.
Overland Park-based Yellow Roadway said Sunday it had reached an agreement to buy Chicago-based USF for about $1.37 billion in cash and stock. The deal, unanimously approved by the boards of both companies, is expected to close sometime this summer.
The new company would have an estimated annual revenue of more than $9 billion, more than 70,000 employees and 1,000 service locations. The deal requires Yellow to assume an expected $99 million in USF debt.
In 2003, Yellow Corp. acquired rival Roadway Corp. in a cash and stock deal valued at $1.01 billion. That merger essentially doubled the company's size, and Yellow's stock price rose 89 percent in the past year. After the Roadway acquisition, Yellow became the nation's revenue leader among trucking companies specializing in carrying less than a truckload, or LTL.
Jack Waldo, an analyst with Stephens Inc. in Little Rock, Ark., said Yellow would benefit greatly from having gone through the Roadway merger.
"I think it's safe to say the Roadway acquisition has moved them up the learning curve, which is a pretty big deal, in my opinion," Waldo said. "The learning curve in the LTL acquisition world can be a pretty expensive one to get up."
The companies expect the transaction to save about $40 million in the first year through combining resources, and long-term savings of at least $150 million.
The proposed acquisition values each USF share at $45, a 16 percent premium to USF's Friday closing price of $38.82 on the Nasdaq Stock Market.
The cash portion of the deal is $639 million, with the remainder to be paid for with Yellow's common stock. Each USF share will be valued at nine-tenths of one share of Yellow. Yellow's shares closed Friday at $61.31, up 8 cents on the Nasdaq.
In trading Monday afternoon, USF shares soared $9.20 to $48.02, or about 23 percent, positioning the stock for a new 52-week high. Meanwhile, Yellow shares were down $2.77 to $58.54 on the Nasdaq, where it has traded in a 52-week range of $29.58 to $62.09.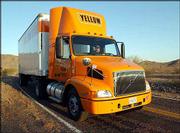 Waldo said he thought the Yellow stock dropped because the purchase price for USF was higher than originally estimated.
"I think for the most part the street was anticipating a purchase price a little south of where Yellow paid for USF Corp.," he said. "There had been a published document talking about a $36 to $44 range, but it looks like it will be $47.30 or somewhere in that range."
Waldo said expectations of $150 million in savings is about $50 million higher than earlier anticipated, which makes the higher purchase price "prudent if Yellow can actually get those synergies."
Bill Zollars, Yellow Roadway president and CEO, called the deal a "strategic fit between two great brands."
"This combination of Yellow and USF will allow us to really consolidate our portfolio," Zollars said. "We can now offer next-day service in a comprehensive way across the country."
Yellow reported 2004 earnings of $184.2 million on $6.8 billion in revenue, compared with 2003 income of $40.7 million on $3.07 billion in revenue.
USF reported earnings of $23.8 million on $2.4 billion in revenue in 2004, down from an income of $42.3 million on $2.3 billion in revenue in 2003.
Copyright 2018 The Associated Press. All rights reserved. This material may not be published, broadcast, rewritten or redistributed. We strive to uphold our values for every story published.