Winter storms and a loss of habitat and food sources have caused a steep decline in the population of monarch butterflies, according to the director of the Kansas University-based Monarch Watch.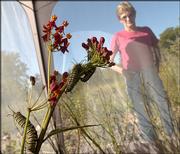 "There's a real serious issue here in trying to preserve this incredible migration pattern of monarchs," said Orley "Chip" Taylor, who also is a KU professor of biology and evolutionary biology.
The butterfly population this winter is the lowest since researchers began detailed surveys 12 years ago and perhaps the smallest since the 1970s, when international scientists first discovered the colonies in central Mexico, according to Lincoln Brower, a biology professor at Sweet Briar College in central Virginia and an authority on monarch butterflies. He estimated the population was at least 75 percent smaller than last year's.
In the last two years, the butterflies carpeted an area spanning more than 20 acres near Cerro Pelon, Mexico, but this winter they covered only a little more than 5 acres, said Ernesto Enkerlin, chief of protected areas for the Environmental Ministry in Mexico.
"We are not happy about having fewer monarch butterflies," he said.
Taylor said winter storms caused a loss of at least 70 percent of the monarch population.
"We're also dealing with a significant habitat situation," Taylor said.
Illegal logging has depleted some of the forested areas of Mexico that monarchs inhabit during the winter months, he said. The amount of milkweed, which is one of the main food sources for monarchs, also has been lessening because of loss of farm land and the increase in genetically modified crops.
Taylor said when crops, like corn, were genetically enhanced and when certain herbicides were used, milkweed was killed off.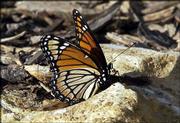 Last week, officials in Mexico blamed the drastic decline in the monarch butterfly population on intensive farming and cold weather in areas of the United States and Canada where the butterflies spend the summer and reproduce.
Taylor said monarch enthusiasts and experts were proposing restoration of milkweed in as many places as possible. But he said people from all three countries would need to discuss the problem.
"We have a very vulnerable population, and it's becoming more so and it will continue to go down unless we do something," Taylor said. "I expect the population will rebound, and it should come back. But it's becoming increasingly apparent that will be more difficult with the habitat degradation."
---
Journal-World wire services contributed to this story.
The decline in the monarch population also has put a financial strain on Kansas University-based Monarch Watch. Researchers collect tags placed on the butterflies in North America, such as the semiannual tagging events at the Baker Wetlands. They pay Mexicans $5 per tag for those that are recovered. Monarch Watch director Chip Taylor said last year they didn't have enough money to purchase all of the tags in Mexico. He said the Monarch Watch still owed about $6,000 from last year. "We were essentially writing IOUs to people," he said. "We're still in the hold, but we're still faced with the prospect of buying $10,000 to $11,000 worth of tags this year."
Copyright 2018 The Lawrence Journal-World. All rights reserved. This material may not be published, broadcast, rewritten or redistributed. We strive to uphold our values for every story published.