CARBONDALE — Santa Fe Trail High's Jake Carter towered over his celebrating teammates at center court Monday night after the Chargers' 50-38 Class 4A sub-state victory over Holton at SFT.
But it was the big man's imposing presence inside and outside the post that gave the Chargers their first postseason victory in three years.
"I just felt that I had to step up tonight and take a larger role," said the 6-foot-9 Carter, who scored a game-high 21 points. "I thought we all played really well, but I kind of got going early, and my teammates kept feeding me the ball."
Carter outscored the Wildcats by himself, 6-5, in the first eight minutes. The Chargers -- who will play Jefferson West on Thursday night in the semifinals at Topeka Hayden -- bolted to a 10-point advantage and never looked back.
"This is extremely huge for our confidence," said junior Brian Shively, who added 12 for the Chargers. "Besides Cody (Reser, Santa Fe Trail's only senior), we've never been this far before, so I think it shows that we do belong and can play with anyone on a given night."
Though the Chargers lost a close game to Jefferson West earlier in the season, second-year coach Jason Shaffer said he would like to see more of Carter's complete game in the rematch.
"He really got us going tonight, even when they took him out from under the basket," Shaffer said.
Most of the time, the SFT center is by far the tallest player on the court, and that was true again Monday. But Carter's skinny frame can be equalized by bigger bodies -- like that of Holton's 6-foot-7 Shawn Thomas, who pushed Carter outside the paint.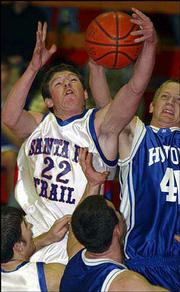 No problem, though.
Carter killed the Wildcats with his soft touch, including three eight- to 10-foot jumpers after Holton closed within 36-33 with 5:40 to play.
From there frustration clearly set in for the Wildcats, and the Chargers closed out the game by hitting eight of 10 charities.
"We worked on free throws all day yesterday," Carter said. "If we can come out and put together another game like this, I'm confident we stand a pretty good chance of making it to the finals."
Copyright 2018 The Lawrence Journal-World. All rights reserved. This material may not be published, broadcast, rewritten or redistributed. We strive to uphold our values for every story published.