Boston — Pittsburgh still could earn a bye in the Big East tournament and a berth in the NCAA Tournament thanks to its old friends at Boston College.
John DeGroat had eight points and six rebounds in 10 second-half minutes Monday night, helping the 24th-ranked Panthers snap a three-game losing streak by beating No. 5 Boston College, 72-50. The decisive victory was Pitt's sixth straight over the Eagles -- including three in the conference tournament -- and it kept BC from clinching a share of the Big East title.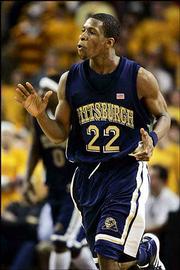 "They've got our number," BC forward Jared Dudley said. "Pittsburgh's done it to us the last couple of years. They like playing against us."
Three straight losses -- the last two at home -- had knocked Pitt (19-7, 9-6), which had been ranked as high as No. 10, from 17th to 24th in the AP poll. The Panthers went from a team worried about its NCAA seeding to one in danger of missing the tournament completely.
Boston College (23-3, 12-3) still could win the Big East outright or share it if the Eagles beat Rutgers on Saturday.
No. 12 Gonzaga 87, Northern Colorado 60
Spokane, Wash. -- Ronny Turiaf scored 22 points, and Gonzaga wrapped up its regular season with its 10th consecutive victory. Gonzaga (23-4) went 13-0 in the new McCarthey Athletic Center this season, and has a 25-game home winning streak, second-longest in the nation to Oklahoma State's 28-game streak.
Copyright 2018 The Associated Press. All rights reserved. This material may not be published, broadcast, rewritten or redistributed. We strive to uphold our values for every story published.