Austin, Texas — With a rugged victory over a tough rival, No. 20 Oklahoma earned an extra day of rest in the postseason.
For the Texas Longhorns, the Sooners' 74-58 victory Monday night means more worrying about just where their postseason will take them.
Lawrence McKenzie scored 16 points as the Sooners muscled past the Longhorns for their fifth straight victory in a game that featured the physical play typical of one of the Big 12 Conference's most intense rivalries.
"This is our best road win for sure," Oklahoma coach Kelvin Sampson said. "McKenzie's saved us a lot of nights."
Oklahoma (22-6, 11-4) clinched a bye in the first round of the Big 12 tournament and stayed within a game of conference leader Kansas University. David Godbold added 14 points for the Sooners.
"I feel good about this team right now," Oklahoma center Johnnie Gilbert said. "We're just playing on a high right now."
Texas (19-9, 8-7) badly needed a win to shore up an at-large bid to the NCAA Tournament.
The Longhorns can finish no worse than .500 in league play, but are just 5-6 during the last five weeks since losing P.J. Tucker, their best player, for the season because of academic problems.
Texas is just 1-4 against ranked opponents and ends the regular season on the road against the one team they did beat, No. 8 Oklahoma State. That was Tucker's last game.
"It's disappointing," coach Rick Barnes said.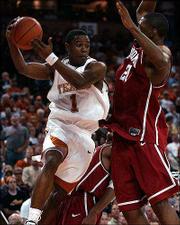 Copyright 2018 The Associated Press. All rights reserved. This material may not be published, broadcast, rewritten or redistributed. We strive to uphold our values for every story published.