New York — With comedian Chris Rock, the Academy Awards succeeded in its effort to find a younger audience -- but perhaps at the expense of the country as a whole.
A total of 41.5 million viewers tuned in Sunday to watch "Million Dollar Baby" take the Oscar for best picture. That's down 2 million from last year's show, according to Nielsen Media Research.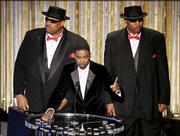 ABC undoubtedly hoped for better, after preliminary figures released earlier Monday from the top 56 markets were the strongest in five years.
The drop in total viewership was an indication that this year's Oscar ceremony was more popular in the big cities than rural areas, more so than an average Academy Awards, said Larry Hyams, vice president of audience analysis and research for ABC.
Oscar ratings were up from last year among viewers aged 18 to 34 -- a prime target for the advertisers who pay millions of dollars for time on what is traditionally the year's highest-rated program after the Super Bowl.
Hyams attributed the boost in young viewership to Rock.
Rock said backstage after the Oscars that he hoped to do it again.
Copyright 2017 The Associated Press. All rights reserved. This material may not be published, broadcast, rewritten or redistributed. We strive to uphold our values for every story published.