Beirut, Lebanon — With shouts of "Syria out!" 25,000 protesters massed outside Parliament in a dramatic display of defiance that forced out Lebanon's pro-Syrian prime minister and Cabinet Monday, two weeks after the assassination of a popular politician touched off increasing unrest.
Minutes after Prime Minister Omar Karami announced he was stepping down, jubilant demonstrators -- shouting, waving flags and handing red roses to soldiers -- demanded that Syrian-backed President Emile Lahoud bow out, too, and pressed on with their calls for Syria to withdraw its troops from the country.
Syria remained silent about the rapidly changing atmosphere in Beirut, where it ruled unopposed for years, even deciding on the Lebanon's leaders, after deploying troops ostensibly as peacekeepers during the 1975-90 civil war.
But the dramatic developments -- reminiscent of Ukraine's peaceful "orange revolution" and broadcast live across the Arab world -- could provoke a strong response from Syria, which keeps 15,000 troops in Lebanon. It also could plunge this nation of 3.5 million back into a period of uncertainty, political vacuum or worse.
The White House welcomed Karami's resignation, saying it opens the door for new elections that are "free of all foreign interference" from Syria, but called again on Damascus to pull out its soldiers.
"Syrian military forces and intelligence personnel need to leave the country," said White House spokesman Scott McClellan said. "That will help ensure that elections are free and fair."
In one sign Syria has no intention of just packing up and leaving, Syrian President Bashar Assad said in remarks published Monday that there will be a price for Syrian troop withdrawal: a settlement with Israel.
At the Parliament building, Karami had asked the legislature for a vote of confidence. Even though he almost certainly would have won, he resigned instead of calling the vote.
In announcing his resignation, Karami said he did it for the good of Lebanon after withstanding unjust criticism of his government in the parliamentary debate.
"I am keen that the government will not be a hurdle in front of those who want the good for this country. I declare the resignation of the government that I had the honor to head. May God preserve Lebanon," Karami said in remarks heard through loudspeakers and watched on a giant screen by throngs on the Martyrs' Square.
Demonstrators immediately shouted for Lahoud to step down, and speakers urged them to stay put until heads of the security agencies resign as well. The demonstrators also called for the Syrian intelligence chief to leave and for the Syrian army to withdraw.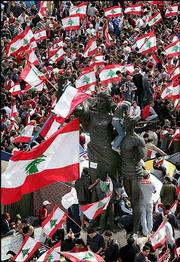 Copyright 2018 The Associated Press. All rights reserved. This material may not be published, broadcast, rewritten or redistributed. We strive to uphold our values for every story published.