New York — For the New York Knicks, a loss would have been beyond demoralizing. More like devastating, an excuse to mail in the final 25 games of the season.
Such a calamity nearly happened as New York blew a 10-point lead in the final 46 seconds of regulation, but the Knicks refused to give up and held the Los Angeles Lakers scoreless during the final 2:25 of overtime in a 117-115 victory Monday night.
"That was a gut check for us, but we really stepped up," New York's Jamal Crawford said. "(A loss) really would have bothered all of us. To have three or four days off until our next game, it would have weighed on our minds."
"Everybody's going to sleep a little better tonight, and the food they eat is going to taste a little better."
Kobe Bryant forced overtime by making a three-pointer with 4.4 seconds left in regulation, but he couldn't come up with another big play at the end.
Tim Thomas scored a season-high 35 points for the Knicks. Bryant had 30 points, eight assists, five rebounds and seven turnovers for the Lakers.
Spurs 94, Cavaliers 92
Cleveland -- Tim Duncan made a 19-foot jumper just before the final horn sounded for San Antonio. After going 0-for-7, Duncan went 9-for-10 from the floor, finishing with 20 points and 11 rebounds. LeBron James finished with 20 points, eight rebounds and seven assists for the Cavaliers.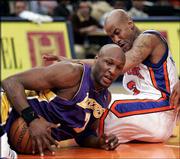 Jazz 87, Clippers 86
Salt Lake City -- Mehmet Okur converted a three-point play with 21.7 seconds remaining, and Utah held on. Keith McLeod had 18 points and eight assists for the Jazz.
Mavericks 90, Hornets 86
Dallas -- Dirk Nowitzki scored 28 points, including a key jumper and two free throws in the final minute. Lee Nailon scored 14 points to pace the Hornets.
Copyright 2018 The Associated Press. All rights reserved. This material may not be published, broadcast, rewritten or redistributed. We strive to uphold our values for every story published.