Cincinnati — Federated Department Stores Inc. plans to double its size by acquiring May Department Stores Co. in what amounts to an $11 billion bet that department stores have a future even as consumers increasingly shop at discounters and specialty stores.
"We believe passionately that department stores have a very important place in the ever-forming, ever-changing retail environment," said Terry J. Lundgren, Federated's chairman, president and chief executive, in announcing the cash-and-stock deal Monday.
Many of May's department stores eventually would be converted to the Macy's name as Federated accelerates its strategy of creating a nationwide brand that would give it pricing leverage with suppliers. The transaction also would bring together the operator of Bloomingdale's with May's Marshall Field's, Lord & Taylor and Hecht's chains.
Federated would not say how many jobs would be cut or what the company would do in cases where it would control multiple department stores in malls. Analysts at Smith Barney estimate that 94 malls have stores with Federated and May nameplates.
The company wants to hear what regulators say about how many of the overlapping stores would have to be closed or sold, Lundgren said.
The combined company would have about 950 department stores and an additional 700 bridal and formal wear stores. It would operate in every state except Alaska, along with Guam, Puerto Rico and the District of Columbia.
Department stores have been losing sales in part because young people regard them as the places where their parents shopped, said Kurt Barnard, a retail industry analyst.
He said Lundgren had driven Federated to reach out to young people with merchandise that appealed to them, an approach that Federated can use for May's stores.
"It is working," said Barnard, president of Barnard's Retail Consulting Group, in New Jersey. "We are seeing younger people flocking to the (Federated) department stores."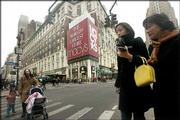 Still, Federated could face a big challenge in revitalizing May, whose sales have slipped, according to Bob Buchanan, an analyst with A.G. Edwards & Sons Inc. "It is not going to be easy to turn that around," he said.
Federated already is spreading the Macy's name to its regional department store groups, meaning that names including Lazarus, Rich's and Burdines will disappear this month.
Lundgren said Federated doesn't plan to change May store names before 2006, but then will rename its stores -- and even some Bloomingdale's stores -- as Macy's. That means that May store names including Filene's, Foley's, Hecht's and Kaufmann's could disappear next year.
May shares closed at 84 cents, or 2.38 percent, to $34.51 in trading on the New York Stock Exchange. Federated shares fell 34 cents, or 0.64 percent, to $56.45. Federated has traded between $42.80 and $59.91 the past year.
Here are the nation's top 10 general merchandise retailers, based on 2004 sales figures. The new company formed by Federated Department Stores Inc. and May Department Stores Co. would rank fourth, behind Wal-Mart, Target and Sears Holding Corp., created by Kmart Holding Corp.'s takeover of Sears, Roebuck and Co. set to close in late March.1. Wal-Mart Stores Inc., $285 billion2. Sears Holding Corp., $55 billion3. Target Corp., $46 billion4. Federated-May, $30 billion5. J.C. Penney Co. Inc., $18 billion6. Gap Inc., $16 billion7. TJX Cos., $15 billion8. Limited Brands Inc., $9 billion9. Dillard's Inc., $8 billion10. Saks Inc., $6 billionSource: Retailers' financial statements.
Copyright 2018 The Associated Press. All rights reserved. This material may not be published, broadcast, rewritten or redistributed. We strive to uphold our values for every story published.