Chicago — A federal judge discovered two bodies in her home Monday night, and authorities were investigating the deaths, police said.
U.S. District Judge Joan Humphrey Lefkow found the bodies about 6 p.m., when she returned home from work, police spokesman Pat Camden said.
The judge was uninjured.
Authorities did not identify the bodies and did not disclose the cause of death.
Chicago police were investigating, along with FBI agents and federal marshals.
FBI spokesman Ross Rice confirmed that agents had been called to help but provided no details.
Authorities gave no indication whether the two deaths were related to Lefkow's involvement in the case of a white supremacist who was convicted last year of soliciting an undercover FBI informant to kill her.
Lefkow received police protection after white supremacist Matthew Hale was arrested in 2003 on charges of soliciting her murder.
According to witnesses, Hale was angry over a Lefkow ruling that he could no longer use the name World Church of the Creator for his hate group because another organization had a copyright on that name.
Hale, 33, is currently awaiting sentencing.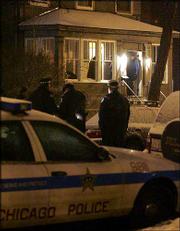 Copyright 2018 The Associated Press. All rights reserved. This material may not be published, broadcast, rewritten or redistributed. We strive to uphold our values for every story published.