Santa Maria, Calif. — Jurors were given opposing images of Michael Jackson as the pop star's trial opened Monday -- the prosecution portraying him as a perverted child molester and the defense saying he was the victim of a con artist who used her cancer-stricken son to prey on celebrities for money.
Dist. Atty. Thomas Sneddon outlined a complicated and sometimes bizarre story alleging that Jackson showed the boy sexually explicit material and groped him as his associates threatened to kill the boy's mother if he told anyone.
Sneddon said the boy, now 15, will describe to the jury his sexual experiences with Jackson and show that the musician's Neverland Ranch was a devilish lair.
"The private world of Michael Jackson will show that instead of reading them Peter Pan, he's showing them sexually explicit magazines. ... Instead of cookies and milk, you can substitute wine, vodka and bourbon," he said.
Jackson is charged with molesting the then-13-year-old cancer patient at Neverland in 2003, plying him with alcohol and conspiring to hold him and his family captive.
After the nearly three-hour opening by the prosecutor, defense attorney Thomas Mesereau. Jr. went on the attack, saying the mother of the accuser claimed to many people that she was destitute and that her son needed money for chemotherapy. In truth, he said, the boy's father was a member of a union that covered his medical bills.
He said celebrities including Mike Tyson and Jim Carrey turned the family away, but Jackson was too sympathetic.
"The most vulnerable celebrity became the mark, Michael Jackson," Mesereau said.
But the prosecutor said Jackson had intended to use the boy as part of a comeback attempt by discussing in a television documentary how the singer helped him through his cancer.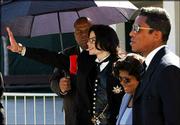 Before the interview with documentary maker Martin Bashir in 2002, Jackson privately told the boy what to say when he was in front of the camera, Sneddon said.
When the February 2003 TV documentary "Living With Michael Jackson," aired, showing the pop star holding hands with the boy and saying he allows children to sleep in his bed, "Jackson's world was rocked," Sneddon said.
He said one of co-conspirators described the airing as "a train wreck."
The molestation began a short time later, Sneddon said.
The prosecutor alleged that when the boy and his family first visited Neverland, Jackson told the boy to ask his mother if he could sleep in Jackson's bedroom. He said Jackson then showed sexually explicit Web sites to the boy and his own son, Prince Michael, on that visit.
Copyright 2018 The Associated Press. All rights reserved. This material may not be published, broadcast, rewritten or redistributed. We strive to uphold our values for every story published.