It was about 10 o'clock Monday night and I was alone in the kitchen with my concoction.
All evening I'd been working on it - melting chocolate and whisking up eggs, sugar, milk, cream and vanilla, then cooling the mixture.
And now I was focused on scooping nuggets of ice and rock salt into my old blue Rival electric ice cream maker, which was churning loudly in the sink.
The hand on my shoulder startled me.
"Hey Dad," Julie said. "How's the ice cream coming?"
Beating the heat
Earlier in the day, as I walked through downtown Lawrence in a shirt and tie, I felt like I was melting. I wanted something frosty, something sweet. The answer hit me: homemade ice cream.
I decided to duck into The Bay Leaf, 725 Mass., a downtown kitchenwares shop.
I went in partly to get out of the 96-degree heat, but mostly to check on the latest in ice cream making technology.
Traditional craftsmanship
"The Fourth of July is the traditional day to do some ice cream with your family," said Geri Reikhof, the shop's owner.
We talked about the old-fashioned hand-crank ice cream makers, which have been popular during family picnics.
"It's a big production to make ice cream in those. It's kind of an event," Reikhof said. "It's the kind of event you want when you've got people throwing horseshoes and you're cooking a pig or something."
Triple motion
Later, I checked online and found what we were talking about - White Mountain Ice Cream Makers.
The crank models, which have a wood tub constructed of 9/16-inch thick select pine from Maine, have been around for 149 years. Back then, the inventors were on to a new way to make their ice cream smoother and creamier.
In 1853, the White Mountain Ice Cream Freezer Co. was founded to build a patented "triple motion dasher system," according to the company.
The company still uses it.
"The canister first turns clockwise and the outer mixer moves counterclockwise, scraping the inside of the canister thoroughly with its wood blades. The blades move the cooler cream inward until it meets the inner mixer. The inner mixer, turning clockwise, moves the cream in a reverse horizontal direction and imparts an upward motion due to the formation of floats."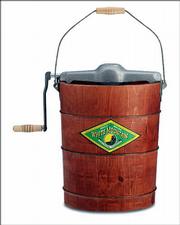 Ernst & Son Hardware, 826 Mass., sells the White Mountain ice cream makers. The crank four-quart model is $149, while the six-quart is $159. The downtown hardware store also sells an electric six-quart model for $209.
"For as expensive as they are, people buy them," said Jason Goodvin, sales clerk there. "A lot of people do call and ask specifically for those."
Less effort
But what if you don't want the hassles of ice and rock salt?
Riekhof has the answer at The Bay Leaf - a small electric countertop model.
The one she carries is the Cuisinart Automatic Ice Cream and Frozen Yogurt Maker ($49.95).
It has a double-insulated freezer bowl that makes 1 1/2 quarts of ice cream.
"You just freeze that bowl and put your ingredients in there and then put it in place and then let 'er go," she said.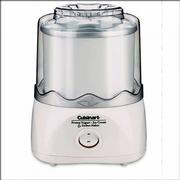 It has a transparent lid so you can see the ice cream as it's being stirred.
"The nice thing is you can also make frozen yogurt or flavored sorbets in it," she said. "It's absolutely easy - not complicated whatsoever."
I found a similar, but larger Cuisinart model at Weaver's Department store, Ninth and Massachusetts. It goes for $79.99, is stainless steel and holds up to two quarts.
No salt, ice or electricity
I also called Jayni Carey, host of Sunflower Broadband's "Jayni's Kitchen," to see what ice cream maker she likes.
"I used to make it with the ice and the salt and the whole deal," Carey said. "First we had a hand crank. Then we had an electric one."
But she decided to go with a simple solution - a countertop Donvier model. It has a patented Chillfast cylinder that you freeze overnight.
"Then you put your cold liquids in it and stir it every few minutes," Carey said. "And pretty soon, you have ice cream. ... There's no machinery involved." The cost is just under $50.
Other options
Can't decide which recipe to make? Cuisinart's Flavor Duo lets you make two flavors at once.
It comes with two insulated freezer bowls that will each hold a quart of ice cream, frozen yogurt or sorbet. Those go for $79.95 at www.afinerkitchen.com.
Cuisinart also makes a Supreme model that has a built-in compressor freezer, so no pre-freezing is needed. It goes for about $250 at Williams-Sonoma.
I found dozens of other ice cream makers online, ranging in price from as little as $15 to $250 at www.epinions.com.
Chocolate enchantment
Free eats
Starbucks on Wednesday dished out sample containers of Starbucks-branded ice cream in its coffee shops nationwide, including Lawrence. Starbucks sells the treats in grocery stores as part of a joint venture with Dreyer's Grand Ice Cream Holdings Inc.
Stone Cold Creamery will serve free tasting samples of five new flavors from 10 a.m. to noon Saturday. The flavors: Wasabi Ginger, Tooty Fruity, Black Licorice, Oatmeal Cookie Batter and Tangerine Sorbet.
While I was churning up my batch of chocolate ice cream in the kitchen, I hadn't heard Julie come in.
She wasn't alone - Lauren Smith, Martha Penturf and Corey Judson had come along.
"You guys look wet," I said.
They all laughed. Julie explained they'd found a way to keep cool on such a warm night - wading in the Chi Omega fountain.
"Corey swam a lap," Lauren said, making everyone laugh.
A few minutes later, my frozen concoction was finally ready. Opening the metal mixture can, we peered in.
"Wow, that looks good."
The thick, chocolately smooth mixture was sticking to the dasher as I pulled it out. It was almost magical.
"Get some bowls," I said.
We all had a taste. And I tried to think of a good name for it - maybe A Midsummer Night's Chocolate Dream.
Copyright 2018 The Lawrence Journal-World. All rights reserved. This material may not be published, broadcast, rewritten or redistributed. We strive to uphold our values for every story published.