Circuses that include lions, elephants and bears have been banned from staging events in unincorporated portions of Douglas County.
"I don't think of this as banning circuses," Douglas County Commissioner Jere McElhaney said. "It's banning certain types of acts. I'm concerned about the transmittal of disease and the potential spread of it."
Commissioners on Wednesday approved banning circuses with exotic animals and classifying elephants as a dangerous exotic animal by a 2-1 vote. Commissioner Bob Johnson dissented.
Animals considered exotic by the county include primates, elephants, lions, tigers and bears.
Members of Animal Outreach of Kansas, a local animal rights group, requested that commissioners make the changes to the county's exotic animal regulations.
Outreach members said there haven't been any violent incidents involving circus animals in Douglas County.
But there have been cases in other places where animals went out of control and people were hurt, said Outreach member Ann Wilson.
Wilson said the group was trying to be pro-active.
Lawrence Humane Society executive director Midge Grinstead said when some circuses came to the area in the past she received several complaints about the animals.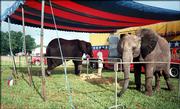 In some cases, she went to check on the animals and often they were in "horrendous shape," she said.
But county residents supporting circuses said the events provided opportunities for children to see animals, like elephants, up close.
"Circuses have been a tradition for more than 100 years," Lawrence resident Ellis Hayden said. "Mostly, they take good care of their animals and a few have had accidents."
Some residents also had concerns that banning circuses with exotic animals from performing could lead to bans on rodeos and 4-H exhibitions.
Commissioners repeatedly asked Outreach members if they had any intention of making requests in the future that would cause problems for agricultural events.
Wilson said her organization had no interest in preventing such events.
"It would be a waste of everybody's time to do that," Wilson said. "This is an issue I think we thought would be doable."
Copyright 2018 The Lawrence Journal-World. All rights reserved. This material may not be published, broadcast, rewritten or redistributed. We strive to uphold our values for every story published.