Antwain Jimmerson demands more of his players than just effort and hustle.
He also requests they become good friends.
"We really encourage our team to get out and meet somebody, regardless of the team that they're on," Jimmerson, coach of the East team for Friday's Native American All-Star football game, said. "You never know when you're going to cross paths again. Everybody has something unique to share about where they live."
For the coach, Friday's showcase at Haskell Stadium is more than a game. It's also an opportunity to unite a group of young men.
"Our goal," Jimmerson said, "is to bring them together this week."
The game will be a showcase for many Native American players, but Jimmerson insists that he still wants his players to have fun.
The team practiced Tuesday like it was heeding that message.
Players and coaches kept the mood light, with claps, yells and encouragement throughout the evening run-through.
Earlier in the day, Jimmerson held a rather unusual practice - in a swimming pool - where the players did some running exercises.
"Our kids have a good time," Jimmerson said. "We work them pretty hard, and we want them to get excited about what we're doing."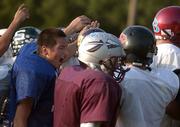 Jimmerson was a late fill-in as coach last season after Perry Beaver had to step aside because of heart problems.
All-Star game director and founder Jeff Bigger immediately knew his top choice for a replacement after working with Jimmerson at Booker T. Washington High School in Oklahoma.
Jimmerson filled in on short notice - and won in convincing fashion. His East squad defeated the West, 34-7 last year, giving West coach Carl Madison his first loss ever in the all-star game.
The coach has been hooked since.
"When you win, you get to defend," Bigger said, "and he's already making plans every year to come back."
Jimmerson made the trip to Lawrence on short rest after playing host Saturday to a football camp at his high school.
The event brought around 200 youths from the third through ninth grades.
The Game
What: Native American All-Star football game
Who: 61 of the top American Indian high school football players
When: 7:30 p.m. Friday
Where: Haskell Stadium
Tickets: $8, or $2 with high school student ID
"As soon as we got done, we took a shower and hit the road," Jimmerson said.
The coach said he enjoyed the luxuries of coaching the all-star team, which included working with talented athletes from across the nation.
"When you're a high school team, you kind of just roll with what you've got," Jimmerson said. "With these kids, they can all play."
But Jimmerson also hopes his team will do a little more than just play Friday.
"These kids are very fortunate," Jimmerson said. "I've coached in other all-star games, but nothing that is this special."
Copyright 2018 The Lawrence Journal-World. All rights reserved. This material may not be published, broadcast, rewritten or redistributed. We strive to uphold our values for every story published.