The rockets' red glare and the bombs bursting in the air will be seen again this year at Stull.
Douglas County Commissioners on Monday unanimously approved a permit for the Stull United Methodist Church to hold its annual fireworks show at 9:45 p.m. on July 2 at the church, 251 North 1600 Road.
This is the first time church officials have had to go through the process to obtain a permit. The County Commission last year began requiring permits for commercial firework displays in unincorporated areas of the county. Stull is about 12 miles west of Lawrence.
Commissioners began exploring the option of requiring firework display permits two years ago after the sheriff's office almost shut down the church's firework show. The display had been scheduled for July 5, but the county only allows fireworks to be set off from July 2-4.
"We just didn't realize we were outside the window," said Robin Edmonds, a spokesman for the Stull United Methodist Church. "We're in the window this time with it being on July 2. But we have to get a permit because this is considered a commercial fireworks display. We don't use fireworks you get at a stand."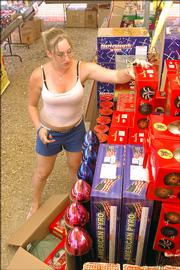 There is no cost for a commercial fireworks display permit, said Keith Dabney, Douglas County Zoning and Codes director.
"More or less, this is a way to make sure people have insurance and are properly using the fireworks," Dabney said.
It also is a way to ensure law enforcement and emergency officials know about the fireworks, he said.
The Stull church group has been the only organization to go through the permitting process, Dabney said. Groups that don't get permits before shooting off fireworks could be fined, he said.
Lt. Steve Brown of the Douglas County Sheriff's Office said he didn't know how much a fine might be in this type of situation and that he would need to research it.
Edmonds said the permitting process was simple.
"But I am concerned that if there's a cost on permitting, it will be the death of this event," he told county commissioners Monday. "It's been going on for 25 years."
Edmonds said the church's youth group worked hard to raise money for the event.
Copyright 2018 The Lawrence Journal-World. All rights reserved. This material may not be published, broadcast, rewritten or redistributed. We strive to uphold our values for every story published.