New York — When Wal-Mart Stores Inc. began looking around Freehold, N.J., company officials assumed it could just move into town with a standard super center and Sam's Club warehouse store. They were wrong.
Aiming to protect its rich heritage from retail sprawl, the town - established in 1693 - had adopted an ordinance in 2002 that dictated new commercial construction would have to embrace traditional architectural styles - colonial, Federal, Georgian or Victorian.
At first, Wal-Mart balked, arguing that it would be too costly to redesign its standard concrete block buildings, according to town officials. But after a year of debate, the world's largest retailer finally came up with a faux-red brick colonial design that satisfied the township committee. Both stores are set to open in 2006.
Wal-Mart officials were not enthusiastic about the ordinance, but town officials would not back down, said Tom Antus, township administrator for Freehold. The result was "reasonably attractive - for a big box," he said.
"Big boxes are the latest rage. We knew they were coming into our community; it was just a question of when," Antus said. The ordinance at least would minimize the visual impact of the store, he said.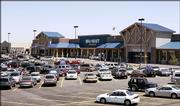 Such adjustments are becoming more commonplace as communities across the country are adopting stricter ordinances dictating size and design of retail outlets. The laws, aimed squarely at curbing behemoth retailers, force them to scale down stores and conform to the local landscape.
The so-called "big-box" retailers are learning to be more flexible in order to open the new stores they need to meet annual sales growth targets. But local activists argue the designs merely dress up the same old retail sprawl.
The trend began in resort areas like Bal Harbour, Fla., but now mountain-themed or seaside versions of big-box stores are popping up in ordinary towns like Freehold and Gaithersburg, Md. Wal-Mart has a store with a timber facade in Centennial, Colo.; an art deco store in Long Beach, Calif. and a design in Round Rock, Texas, meant to resemble a series of Main Street storefronts. Target has a colonial-style store in Gaithersburg, Md., and The Home Depot Inc. opened last summer a seaside-themed store near an inlet in West Vancouver, Canada.
Fast-food outlets also have been a target, forcing McDonald's Corp. to give up its golden arches for colonial architecture in Maine and adobe style in Arizona.
Stores are "learning from these towns and learning they can push the envelope," said Tim Bruce, senior vice president of development at Developers Diversified Realty Corp., which is building the Wal-Mart stores in Freehold and created the art deco Wal-Mart.
But community activists aren't buying it.
"It's a skin-deep change. It's like putting a tuxedo on Frankenstein. The monster is still there," said Al Norman, president of Sprawl Busters, an organization that works with local communities to fight unwanted store development.
Norman is pushing for communities to limit the size of these stores to no more than 50,000 square feet, with a 25,000-square-foot limit per floor. By comparison, a typical Wal-Mart super center averages 187,000 square feet, and a Home Depot store averages about 100,000 square feet.
Retailers are finding novel ways around those limits. Faced with limitations that would block plans for a 145,000-square-foot store in Dunkirk, Md., Wal-Mart proposed this past spring to split the store in two - a retail section and a garden center side by side and sharing a parking lot.
But the retailer backed away from the idea after it caused an uproar in the community. It is now proposing one store that meets the town's 75,000-square-foot size requirement.
Meanwhile, local opposition to big-box stores has become bolder and more successful. Wal-Mart, in particular, has faced increasingly vocal community and labor groups in places like Inglewood, Calif., which rejected a super center last year.
Lawrence, Kan., developers, neighborhood leaders and city officials have been at odds for three years over a proposed Wal-Mart at Sixth Street and Wakarusa Drive.
Copyright 2018 The Associated Press. All rights reserved. This material may not be published, broadcast, rewritten or redistributed. We strive to uphold our values for every story published.