Cherry Hills Village, Colo. — Those who came to Cherry Hills wanting to witness history only had to adjust their view Saturday in the U.S. Women's Open.
Annika Sorenstam's bid for the Grand Slam still was a possibility.
Perhaps even more amazing was the sight of two teen-agers in pink shirts and ponytails - 15-year-old Michelle Wie and 17-year-old Morgan Pressel - grabbing a three-way share of the lead and standing 18 holes away from a chance to become the youngest major champion in golf history.
Indeed, this was shaping up as a championship for the ages.
"It would be really cool if that happened," said Wie, who used her power to escape rough spots on her way to a 1-over 72 while playing in the final pairing before a massive crowd that cheered her at every turn.
Pressel made two clutch par saves on the back for a 1-under 70, putting her at 1-over 214 and in the final pairing today with Women's British Open champion Karen Stupples (69), the last woman other than Sorenstam to win a major.
Are the teenagers intimidated?
Please.
"I'm baffled by the question," Pressel said. "I've played lots of events. I know how to play golf. People look at age as something that should set me back, but I don't think it does."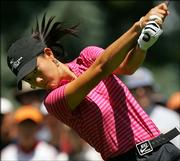 Not to be forgotten is 18-year-old Paula Creamer, who last month won her first LPGA title a week before going through high school graduation ceremonies. She bogeyed the last hole for a 72 and was one shot out of the lead, equally poised to take her place in history as the youngest winner of an American major.
"If I'm a veteran, then goodness," Creamer said.
Stupples is 32 - the combined age of Wie and Pressel - but is the only player among the top 10 who knows what it's like to win a major. She captured the Women's British Open last year with an eagle-double eagle start at Sunningdale and thrust herself into contention Saturday with six straight birdies.
Sorenstam still is more than just a subplot to this dynamic championship, but just barely.
Her dream of sweeping the four majors appeared to crash with a three-putt bogey and a four-putt double bogey in a span of four holes early in the third round. But she salvaged a 2-over 73 to finish at 6-over 219, only five shots out of the lead heading into the final round.
The last time the U.S. Women's Open was played in Colorado, Sorenstam came from five shots behind to win her first LPGA title 10 years ago. Sixty-two victories and nine majors later, she still is a force.
"I've got 18 more holes to play, and I'm going to give it my all," Sorenstam said.
Sorenstam has to catch up to a collection of teenagers and amateurs who see no reason why they can't win the biggest tournament in women's golf.
"My goal in the beginning of the week was to shoot consistent under-par rounds," Wie said. "I haven't really achieved that goal. So, I have readjusted myself, and hopefully I will shoot under par tomorrow."
The star attraction on a balmy afternoon, the 6-foot Wie never became flustered after bogeys on two of the first four holes, one of those a chip she nearly shanked from the deep rough around the fourth green. She answered by hitting a driver on the 539-yard fifth hole for the first time all week, allowing her to reach the green with a 5-iron.
Wie held on to the lead at even par, muscling an approach out of the deep rough to the front of the 14th green. But a 3-wood slightly off its mark caught up with her two holes later when she tried to squeeze another wedge out of the thick grass and went into more rough short of the green, making bogey.
She will be in the second-to-last group today with Birdie Kim, who had a 69. Creamer will be in the group ahead of her with Young Jo (70).
Pressel first played in the Women's Open at 13, and the high school senior has been around the lead all week. She stayed there Saturday with a 15-foot par save on the 16th hole and a good two-putt from the bottom of the 18th green to get into the final group.
Copyright 2018 The Associated Press. All rights reserved. This material may not be published, broadcast, rewritten or redistributed. We strive to uphold our values for every story published.