Apple Computer Inc. caught rivals napping when it introduced the iTunes store two years ago.
Rivals had to scramble to get their copycat versions up and running, but the imitators couldn't match the iTunes store's features and ease of use. Apple has sold about half a billion songs and holds 70 percent to 80 percent of the market, depending on which analyst you ask.
In the past few months, however, the competition finally has come up with a significant feature iTunes doesn't have - a subscription for unlimited downloads, all of which can be loaded onto a portable player.
Napster Inc., RealNetworks Inc. and Yahoo Inc. all are offering versions of this "downloads to-go" service, which is based on a Microsoft Corp. technology and requires a computer running the Windows XP operating system. The "to-go" subscriptions don't work with Apple's iPod players; they require players that also have the Microsoft technology.
The three "to-go" subscription companies also have less-expensive services for users for unlimited downloads that can't transfer to a portable player. Circuit City Stores Inc.'s MusicNow, which offers a computer-only subscription, has one on the way for portable players.
A digital music subscription isn't for everyone. Subscribers technically don't get to "keep" their downloaded songs. They rent them by paying their monthly bills, and the songs disappear if the bill isn't paid.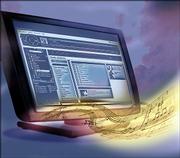 Songs downloaded through a subscription also can't be burned to a CD.
None of the subscription services can compete with the iTunes store's elegant design and simplicity.
Some record labels only want their songs sold a la carte and don't want them available as part of the subscription. To handle this, the music stores put little icons next to each song to denote whether they're available as part of the subscription or only on a pay-per-download basis.
But subscriptions do allow music fans to sample and enjoy a far wider assortment of music than they could otherwise afford. Many listeners buy CDs, listen to them a few times, then put them on a shelf. These fickle types might find it be easier to rent most of their CDs and buy only the few they want to keep for life.
Each of the major online music subscription services has unique features.
If you're ready to venture beyond iTunes, here's a look at how your online music shopping options stack up:
Napster
Requirements: Free software download, Windows 2000 or XP. The "to-go" subscription requires XP.
A la carte song price: 99 cents.
Buying unlimited downloads: "To-go" subscription is $15 a month. The computer-only subscription is $10 a month.
Community: Napster allows you to share songs through e-mail or through its own internal messaging system. You also can search for other users' online handles and view their playlists, so that you can learn from other people's tastes. And Napster is host to a chat room.
Other features: Napster acts like a gentle music guru, doing its best to guide you to new discoveries. The browsing section features columns highlighting obscure gems and overviews of genres such as reggae.
Pros: The chat rooms and song-sharing give Napster a kind of social-networking feel, like a musical Friendster.
Cons: You can't click on a name in the chat room to automatically reveal a user's music library. Instead, you have to exit the chat room and search for the user to see what they're listening to.
Rhapsody
Requirements: RealNetworks' free software download, Windows 2000 or XP. The "to-go" subscription requires XP.
A la carte song price: 89 cents.
Buying unlimited downloads: "To-go" subscription is $15 a month. Computer-only subscription is $10 a month, with discounts for long-term agreements.
Community: You can share playlists and view those of other users, including members of the Rhapsody staff. But you can't search for the users by name, so it's difficult to keep up with people whose tastes you admire.
Other features: Rhapsody has identified blogging as a great way to share music. Right-click on any song to write a blog post about it, complete with a link to the song on your Web site. When visitors click on the link on the blog, they're directed to download Rhapsody if they haven't already.
Pros: A cheaper a la carte rate and a way for bloggers to share new tunes.
Cons: You have to manually sync your portable device to the software's library.
Yahoo Music Unlimited
Requirements: Free software download, Windows 2000 or XP. The "to-go" feature requires XP.
A la carte song price: 79 cents.
Buying unlimited downloads: Introductory price of $7 per month, with discount for long-term agreement. Price includes "to-go" feature. Regular price hasn't yet been announced.
Community: The software is in testing mode right now, but it appears as if the company is integrating its instant-messaging software into the music service.
Other features: The ad-free version of Yahoo's LaunchCast personalized Internet radio service also pops up here. And you can send songs to other users via instant message.
Pros: By far the cheapest subscription and a la carte prices, though competitors and analysts are skeptical about whether Yahoo can keep them that low.
Cons: Since it's in beta mode, it still has lots of bugs and features that don't work yet.
Musicnow
Requirements: Windows 2000 or XP, Windows Media Player and, at least officially, Internet Explorer (a recent test allowed use of an alternative Web browser).
A la carte song price: 99 cents.
Buying unlimited downloads: Computer-only subscription is $10 a month.
Community: Each artist's page has a list of users who have the artist in their libraries. You can click on those users and, if you like their taste, add them to your network. But that's the only way you can find other users, and you can't chat with them.
Other features: MusicNow has a great approach to the idea of self-updating playlists. Add a "hotlist" to your library of the top songs by Mariah Carey, and you'll get a playlist that updates based on the singer's hottest-selling tracks.
Pros: Doesn't require a software download, so any computer with a Web browser and Windows Media Player can access your music library.
Cons: No "to-go" option, though executives say one is in the planning stages.
Audio Lunchbox
While cruising the Internet for alternatives to iTunes, up came AudioLunchbox.
Like iTunes, the Web-based service doesn't have a subscription plan. Also like Apple's service, AudioLunchbox charges 99 cents for each song.
But AudioLunchbox is distinguished by its selection and its flexibility.
The service has compiled a roster of independent labels that will appeal to fans of music off the beaten path. It's the place to go for well-known independent rock labels and for small labels in other genres, such as Sugar Hill Records' bluegrass and Coup D'Etat Entertainment's hip-hop.
Think of it as the specialized music store you occasionally visit when you can't find something at the big chain.
The site simply requires a Web browser - any major operating system will work. You have the option of downloading MP3 files or Ogg Vorbis audio files.
Songs bought through AudioLunchbox have no digital rights management protection, so you can burn them to CD or transfer them to other computers or digital players as often as you like.
Copyright 2018 The Lawrence Journal-World. All rights reserved. This material may not be published, broadcast, rewritten or redistributed. We strive to uphold our values for every story published.