Philadelphia — With a runner on third, Matt Clement threw a pitch that sailed over Jason Varitek's head and bounced right back to the catcher.
Everything has been going right for Clement this season.
Clement pitched seven strong innings, leading the Boston Red Sox to their sixth straight victory, 7-1, over the Philadelphia Phillies on Saturday.
"I learned a lot getting to pitch with the guys I pitched with last year," said Clement, who played for the Cubs and with Greg Maddux last season. "It helped me mature and develop a game plan."
Trot Nixon and Bill Mueller each had two doubles and one RBI, and Edgar Renteria had three hits and drove in a run to help the defending World Series champions win for the 11th time in 12 games.
Manny Ramirez moved ahead of Duke Snider into 38th place on the career list with 408 homers when he connected leading off the ninth. He has seven homers in the last 11 games and 18 this season.
Chase Utley had a run-scoring double for the Phillies, who have lost eight of 11 after going 12-1 on a homestand.
"We've not only got to start hitting, we've got to start making plays and playing heads-up ball," Phillies manager Charlie Manuel said. "We're better than what we're playing now."
Clement (9-1) allowed one run and seven hits. He retired his first eight batters before reliever Geoff Geary lined a single to center for his first hit in the majors.
Clement, a right-hander who signed a $25 million, three-year deal last December, has allowed three runs or fewer in 13 of 16 starts. He was 9-13 with a 3.68 earned-run average for Chicago last year.
"He's been strong, durable," Red Sox manager Terry Francona said. "His ball was moving. He's been outstanding."
Braves 5, Orioles 4
Atlanta - Andruw Jones homered leading off the bottom of the ninth inning, and Atlanta beat Baltimore after wasting a four-run lead.
Jones' drive off Todd Williams (4-4), which barely cleared the left-field wall, was his major-league-leading 23rd home run of the season.
Atlanta won for the seventh time in nine games. One day after falling out of first place in the AL East for the first time since April 23, the Orioles lost for the ninth time in 11 road games.
Rookie Jorge Vasquez (1-0) came on and walked Sammy Sosa to load the bases before getting pinch-hitter Geronimo Gil to hit into an inning-ending double play.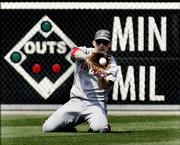 Mets 10, Yankees 3
New York - Cliff Floyd hit a pair of two-run homers, David Wright also connected, and the New York Mets routed the Yankees for their second consecutive Subway Series victory. Tom Glavine (5-7) pitched six effective innings, sending the bumbling Yankees to their fourth straight loss and leaving both Big Apple teams at 37-37.
Rangers 6, Astros 5
Houston - Michael Young homered twice and drove in three runs, rookie Chris Young took a no-hit bid into the sixth inning, and Texas held off Houston to end a five-game losing streak. Rod Barajas homered for the second straight game, Alfonso Soriano added a two-run double, and Francisco Cordero got five outs for his 18th save in 21 chances. The Rangers won for just the second time in 11 road games.
Athletics 6, Giants 3
Oakland, Calif. - Dan Haren outpitched college buddy Noah Lowry in their first major-league matchup, and Nick Swisher hit a three-run homer to lead Oakland over San Francisco. Haren (6-7) won his fifth straight decision, pitching a seven-hitter for his second career complete game. Lowry (4-7) allowed five runs - four earned - five hits and four walks in six innings.
Cubs 6, White Sox 2
Chicago - Aramis Ramirez hit the fifth grand slam of his career, Greg Maddux allowed two runs in six innings, and the Chicago Cubs stopped the White Sox's eight-game winning streak. Maddux (7-4) scattered five hits, struck out six and did not walk a batter. With his 312th win, he moved past Tom Seaver into sole possession of 17th place on the career list. Jose Contreras (3-4) allowed six runs, eight hits, two wild pitches and a career-high three hit batters in 61â3 innings.
Padres 8, Mariners 5
San Diego - Xavier Nady and Khalil Greene hit consecutive homers in the third inning as San Diego beat Seattle despite a poor start by Jake Peavy. Given an early seven-run lead, Peavy (7-2) allowed five runs and seven hits in five innings, raising his ERA from 2.56 to 2.88. It was the first time in 15 starts this season that Peavy gave up five earned runs.
Marlins 6, Devil Rays 2
St. Petersburg, Fla. - Rookie Scott Olsen (1-0) allowed two runs - one earned - and four hits in 52â3 innings in his major-league debut to help the Marlins defeat their intrastate rivals for the sixth straight time. The Marlins staked the 21-year-old left-hander to a 4-0 lead before his first big-league pitch.
Nationals 5, Blue Jays 2
Washington - Livan Hernandez won his career-best 10th straight decision, and Washington extended its home winning streak to 12 by beating Toronto. Hernandez (11-2) improved to 10-0 in his last 13 starts, though he was uncharacteristically wild. He allowed two runs and seven hits in 71â3 innings, walked three and hit two batters.
Indians 12, Reds 7
Cleveland - Ben Broussard hit two of Cleveland's five homers, and Jake Westbrook got some unaccustomed run support as the Indians defeated Cincinnati. Westbrook (5-9) tied a career high with eight strikeouts as he won his third straight start. He gave up three runs and eight hits in seven innings, walking one.
Brewers 7, Twins 6
Milwaukee - Rookie Prince Fielder hit his first major-league home run, a pinch-hit, three-run drive in the sixth inning that led Milwaukee over Minnesota. AL Cy Young Award winner Johan Santana (7-4) led 5-2 before Carlos Lee's two-run double in the fifth.
Angels 3, Dodgers 1
Anaheim, Calif. - Rookie Ervin Santana overcame a shaky start to pitch 62â3 solid innings, Orlando Cabrera hit a two-run double, and the Angels beat the Dodgers for the fourth time in five games this season and in 11 of the last 15 meetings between the teams. The victory was the fifth straight for the Angels, moving them a season-high 15 games over .500.
Tigers 5, D'backs 1
Phoenix - Omar Infante doubled and scored the go-ahead run in the seventh inning to lead Detroit. Sean Douglass (1-0) gave up four hits in six innings in his season debut to earn his first victory since 2001. Franklyn German, Kyle Farnsworth and Troy Percival finished up with a scoreless inning apiece.
Copyright 2018 The Associated Press. All rights reserved. This material may not be published, broadcast, rewritten or redistributed. We strive to uphold our values for every story published.