With the way the Lawrence Raiders swung their seldom-used wooden bats in the first two days of the Al Ice Memorial Woodbat Classic, it only was a matter of time until the magic returned.
"It had to come around," Raider first baseman Lorenzo Ricketts said. "Murphy's Law, I guess. You know how that goes."
After the Raiders stranded eight runners in the first four innings against Claremore, Okla., Saturday night, Brian Heere broke a 2-all deadlock on a full-count pitch with a chopped single into center field with two outs and the bases loaded.
The ball rolled under the glove of Claremore's Jordan Reed, allowing Hogan Matson to score all the way from first and put Heere on second. Tommy Fitzgerald scored Heere with a base hit of his own to secure the Raiders' 6-3 victory at Hoglund Ballpark.
The win put Lawrence in today's semifinals.
"We've been in those situations before, and I was just waiting for someone to get a good pitch and get a good piece of wood on it," Raider coach Kevin Tucker said. "And B-Heere came up big in that fifth inning."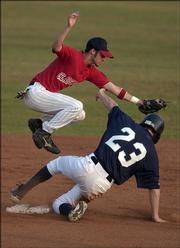 Heere and Fitzgerald were the sparkplugs Saturday night, going a combined 5-for-8 at the plate with three RBIs and two runs scored.
Lawrence also got a boost with Ricketts' return to the lineup. The Free State senior missed the past week after straining the left side of his back in a head-on collision while playing 7-on-7 football. In his first four trips back to the plate, he had two hits, but his presence was felt well beyond that.
In each of his at-bats, the righty leaned in close to the plate, exposing his injury to try to get in the head of Claremore pitcher Bryan Woody.
"I was on the plate a little bit trying to make him throw me a strike," he said. "Man, if he would have hit me on the left side of my back, that would have hurt."
An added bonus for Ricketts and his Free State High teammates from this past spring on the Raiders' summer roster was sending Claremore to today's fifth-place game. It provided some redemption for the Firebirds' 4-0 loss to Claremore High in April.
"It was outstanding, especially because we lost to them earlier in the year," he said. "They're a great ballclub. We didn't come through early when we had runners on base, but we came through late when it mattered. That's how you win tight games."
The Raiders finished 3-0 in the American League bracket and will face Tulsa Memorial, second in the National League bracket, today at 3:30 p.m.
Undefeated Topeka 400 plays Arkansas City at 1:30 p.m. in the other semifinal, with the two winners facing off at 6 p.m.
Copyright 2018 The Lawrence Journal-World. All rights reserved. This material may not be published, broadcast, rewritten or redistributed. We strive to uphold our values for every story published.