New York — Like a good hostess, author Melissa Bank is in her kitchen making coffee, and like a good friend, she'd rather gab about careers, men and the choices we all make in our daily lives than get down to the business of promoting her new book.
An interview with Bank about "The Wonder Spot," the follow-up to her wildly successful "The Girl's Guide to Hunting and Fishing," quickly turns into a rap session.
"The only thing to do is to pay attention to what feels right to you and anything less is a distraction," she says, returning to her living room with two fresh cups. "As you get older, you become more attuned to how people who have your best interests at heart can become your nay-sayers. I am always suspicious of those who have a really big stake in what I decide."
Bank, who was raised in a Philadelphia suburb, worked in advertising for eight years until she was asked by an editor at Francis Ford Coppola's literary magazine, Zoetrope, to write a story that became part of "Girl's Guide," something she had been toying with for years but just never thought to publish.
Her modest home and candid demeanor are a bit surprising given the success of "Girl's Guide," which sold more than 1.5 million copies. Then again, she can't believe her book was such a hit.
"I know that it was on best-seller lists, but I still don't believe it," she says.
The success was crippling to her work, but not because she feared she wouldn't live up to the expectations of critics.
"I think I didn't really feel worried about other people's expectations because I was so blind sided by my own fears and anxieties - anybody else's were lowered," she says.
She was plagued by a "fraud complex" - she thought she didn't deserve the successes she got - and was distracted by book tours, and film prospects for her novel and screenplays. It took her nearly five years to write "Wonder Spot."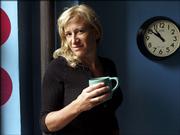 "For me to write anything worthwhile, I have to be quiet in my own head," she says. "When you have some success, there's a carbonation that happens. It's little narcissistic bubbles in your head always popping. And in order to write anything worth reading, I have to be completely quiet."
Finally, she went under contract again and was forced to come up with something. After meeting with editors, she decided that her judgment was a bit skewed. "The Wonder Spot," is the result.
There is a sense of intimacy to her conversation that shows in her writing. "The Wonder Spot" is a series of first-person short stories centered on the sharp-witted Sophie Applebaum, a formula Bank employed successfully with "Girl's Guide."
Both books deal with a single woman and her relationship to the world. The reader becomes instantly familiar with Sophie, because she spills her guts about life, her family and her career. The reader meets Sophie first when she's in junior high, and the story randomly picks up in different periods of her life, showing how she grapples with relationships and jobs. Her innermost thoughts are exposed, as if reading a stranger's diary and feeling like you're given a window to his or her brain.
Booksellers are anticipating strong sales this summer for the novel.
"Her first book was so well-written and well-received, buyers figured this would be, too," said Borders, Inc. spokeswoman Beth Bingham. "They read it, and it lived up to their expectations and then some."
Copyright 2018 The Associated Press. All rights reserved. This material may not be published, broadcast, rewritten or redistributed. We strive to uphold our values for every story published.