Think you're suffering at the gas pump these days, aghast at the cost of filling up your little Honda Civic - or, worse, your sport utility vehicle?
Talk to Rick Farris for a reality check.
During the average day's work in the field, the custom crop harvester's operation will burn between 900 and 1,000 gallons of fuel in his combines, trucks and other machinery.
Just a couple of years ago, the same amount of fuel would have cost Farris $1,000 to $1,200. Now, he's paying more than $2,000.
If that sounds steep, consider how much he shelled out for fuel in 2004 as he traveled the country harvesting crops for farmers.
"Oh boy, it was $88,000 last year, over the six-month period that we're operating. The year before that, it was about $64,000, and I expect my fuel bill this year to be probably in the range of $110,000 to $125,000," said Farris, who, with his crew, spent much of this week cutting winter wheat at farms near Protection, 260 miles southwest of Lawrence.
Farris, a 1967 Kansas University graduate who lives in Edson, near Goodland, has plenty of company these days.
He's among the many custom crop harvesters who - fanning out across central and western Kansas this week - are feeling a severe pinch when they go to fuel their steel armadas of combines and trucks.
When the price of crude oil approaches $60 per barrel, custom cutters must pay more for gas, in turn adjusting upward the per-acre or per-bushel rates they charge to farmers for harvest.
Photo Gallery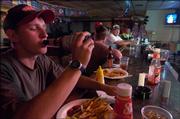 Harvesters and fuel costs
"We're left with the option of passing it along, or going broke," said Tim Baker, executive director of U.S. Custom Harvesters, a Hutchinson-based professional association.
If fuel prices don't subside, industry experts say, the ranks of custom crop harvesters could rapidly dwindle.
"Well, some will find that they can't continue, and they'll leave it, and some will find another, more efficient way of doing business and hang on," Baker said.
Numbers dwindling
The concerns Farris and Baker expressed were echoed by other custom harvesters cutting winter wheat in Kansas this week.
For Gale Shughart, a custom cutter from Lawrence, the pain that high gas prices are causing couldn't be more stark: Some of his peers are getting out.
"In Blackwell, Okla., where there used to be 20 harvesters, this year there were three. The numbers are down. People just keep dwindling away," said Shughart, reached on his cell phone in north-central Oklahoma last week, where he was busy cutting wheat.
Rising gas costs are helping drive them out.
"Well, it's damned expensive. Two years ago, fuel was well under a dollar, and I paid $1.89 for it yesterday. Add 40 more cents per gallon for highway fuel (used in road vehicles and taxed by the state)," said Shughart, 52.
He's been in the business since 1995, and owns four combines, each worth well over $200,000.
"My fuel bill's a heck of a lot bigger than it was two years ago. If we combine 30,000 acres in a year, it adds 60 grand" in expense that he has to pass along to the farmer, Shughart said.
"As a matter of fact, I'm settling up with one right now, and they're not going to understand it very well," he said.
But Shughart, who owns 700 acres of his own in rural Oskaloosa, where he grows soybeans, corn and wheat, said he's going to stay in the business.
"You don't have much choice. You develop a customer base across the nation, and you just don't give up overnight. It took a few years to build, and you don't want to quit. But eventually it could come to that."
Fewer old timers
It's much the same story for Lance Frederick, 43, a custom crop harvester who lives in Alden. This week, he was in Ness City, cutting wheat.
"We burn close to 3,000 gallons of gas on a good day of harvest, with eight machines in operation. That's costing us over $6,000 a day. Two or three years ago, that would have been half," he said. "Not a very pretty picture, is it?"
When Carl Figgins, a custom crop harvester from Mankato, went to fill up his combines, two tractors and grain carts earlier this week, he used $1,400 worth of fuel - and that was for a half-day's run.
"It's biting us big time; it's biting my customers right along with us. We have to have more dollars per acre to make it work for us, and they need more money on the crop side to make it work for them. It's a pretty deflated (wheat) market," he said.
Both the custom crop harvester and the farmer are suffering, he said.
Figgins, 60, hasn't missed a harvest run since 1959. But people like him are growing fewer.
"There's a lot of people backing out because of the high cost. They're losing money, and some very good people that's been doing it a lot of years, they're saying 'to heck with it.'"
Farris, the harvester working near Protection, said he hated to think about leaving the business.
"I've got a nephew (Patrick Farris, also a KU graduate) that's been with me now a long time. He started when he was 14, and I hope that we have something for him to take over," Farris said.
Copyright 2018 The Lawrence Journal-World. All rights reserved. This material may not be published, broadcast, rewritten or redistributed. We strive to uphold our values for every story published.