ATCHISON — During its Territorial Days Saturday, the town of Lecompton was raided.
One-hundred-ninety-three bicyclists, on the inaugural Border Raiders tour, rolled into what was the territorial capital of Kansas in 1854. They got away with more than 600 pancakes, sausages and drinks, courtesy of the Lecompton Masonic Lodge and the Perry-Lecompton High School cheerleaders.
Cheerleader Jill Martin waited tables and passed out drinks.
"It's so cool," said Martin, a senior, referring to the cyclists' eight-day, 400-mile ride. "But it's so hot. I could never do it."
The riders, who are touring Civil War-era historic sites, will average about 60 miles a day. Saturday's temperatures in the mid-90s were a foreboding forecast for the coming week.
Outside the Lecompton Community Building meal site, Kallen Hanson and his wife, Julie, of Lenexa, were enjoying the start of their vacation. They've done several cycling tours together.
"You meet a lot of nice people, and it helps keep you in shape," Kallen said.
Julie likes the fact that you see all ages participating. But using vacation time to cycle such distances does raise some eyebrows.
"I was talking with some friends," Julie said, "and they were going on vacation to Las Vegas - spas and stuff. I thought: What's wrong with us?"
Photo Gallery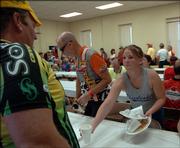 Border Raiders Tour -- Day One
Phyllis Petesch, 76, Winchester, stood inside the Nortonville Main Street Grille and looked out the window at cyclists arriving in town. A sign on the wall said "All you can eat for $100." Farm tools and artwork hung in the building, which used to be a hardware store dating from the 1880s. Petesch was on hand to help wait tables for the expected noon rush of hungry riders.
"This is about all there is in Nortonville," Petesch said. "There's a nursing home and a school. That's about it."
Outside the restaurant the riders' bicycles, jerseys and helmets added a splash of color to the bricks and boards of Nortonville.
"I like the bikers. It's neat," Petesch said. "I can ride a horse, but I can't ride a bicycle. Never could. I'm too old now."
Riders began arriving in Atchison after 2 p.m. Saturday. Some slept in the unair-conditioned gym at Maur Hill High School, and others set up tents on the school grounds. Trolleys were available to take riders into town for an evening meal and historic tours.
Today's destination is 57 miles to Falls City, Neb.
Copyright 2018 The Lawrence Journal-World. All rights reserved. This material may not be published, broadcast, rewritten or redistributed. We strive to uphold our values for every story published.