Topeka — State lawmakers Saturday considered deep cuts to higher education and social services to pay for a Kansas Supreme Court order to increase school funding.
"People need to realize this is a critical situation," Senate President Steve Morris, R-Hugoton, said. "We can't just put our heads in the sand."
The proposals were launched one day after a measure to expand casino gambling failed in the Senate and as lawmakers remained far apart on school finance.
The Senate budget committee introduced a proposal to cut $161 million from the budget - enough to pay for the Senate plan to increase funds to public schools, and offer property tax relief.
The roughly 8.3 percent budget cut to all agencies except public schools would slash higher education by $67.8 million, including $11.9 million to Kansas University, and $9.2 million to the KU Medical Center.
Reggie Robinson, president and chief executive of the Kansas Board of Regents, decried the proposal. "Kansas students, families and their pocketbooks should not be held hostage during this budget debate," Robinson said.
The cuts would be the equivalent of shutting down Fort Hays State University and Emporia State University.
Democrats disagree cuts are needed
Talk turned to budget-cutting on the fourth day of the special legislative session to address a Kansas Supreme Court order to increase school funding.
The court has declared the current school finance system unconstitutional because of inadequate funding and unfair distribution of those funds, and has given lawmakers until Friday to fix it.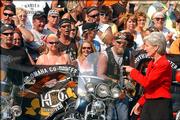 On the House side, Republican budget writers considered cuts to services to elderly and destitute residents to help pay for the court order.
"You are no longer pitted against education," state Rep. Brenda Landwehr, R-Wichita, and chairwoman of the social services budget subcommittee, told social service advocates. "The steamroller has run over you."
But Democrats disagreed, saying there were other options to consider before discussing cuts to social services.
At a news conference, Gov. Kathleen Sebelius said the budget reductions would hurt vulnerable Kansans and the economy.
"I don't think that's a responsible way to go about solving this issue," Sebelius said.
State Rep. Barbara Ballard, D-Lawrence, and a member of the social services budget subcommittee, said proposals to expand casino gambling or increase taxes should be considered before cuts.
"I would hope that this is the very last resort we would have to look at," Ballard said.
But on Friday, the Senate defeated a casino bill, and the odds of approving a tax increase are slim at best.
In fact, the Legislature could write a check for $143 million to comply with the court order by dipping into cash reserves and a windfall of $85 million in higher-than-expected tax receipts.
But that would leave lawmakers facing a huge budget hole in January because of additional costs from debts, expected increases in social service mandates, and the possibility of a subsequent court order on school funding of $568 million.
Social service organizations were starting to mobilize in anticipation of the debate on proposed cuts.
"We are shocked and angry at the lack of leadership on display here in the Statehouse," said Tom Laing, executive director of InterHab, a service network for Kansans with disabilities.
"Apparently, it is easier for some to cause pain and suffering for thousands of Kansans than it is to find ways to raise the additional funds for education," he said.
Budget staffers, in reviewing a list of proposed cuts, said the short-time savings could increase costs in the long run by forcing people to access more expensive services.
School finance proposals unveiled
Meanwhile, lawmakers remained at odds over a school funding proposal.
Many conservative Republicans, including House Speaker Doug Mays, R-Topeka, have said they would not comply with the state Supreme Court order because they thought the court overstepped its authority in ordering the Legislature to increase funding.
The House Select Education Committee recommended a $106 million plan that will probably be voted on today by the full House.
Late Saturday, a group of about 18 to 25 moderate Republicans unveiled a $149.4 million plan that has been dubbed the "MoJo" plan because it is supported by a wide range of legislators from rural Morton County to populous Johnson County.
"We will be put on the chopping block for being here," state Rep. Bill Light, R-Rolla, said, but, he added, "We feel the leadership is not putting together something that will satisfy the courts."
State Rep. Tom Sloan, R-Lawrence, was among the group. "This becomes part of the solution, but it's not the solution in its entirety," he said.
Judicial bypass
But school finance wasn't on the agenda Saturday before the full House.
The chamber spent 2 1/2 hours debating a proposed constitutional amendment aimed at prohibiting the judicial branch from being able to tell the Legislature to appropriate money, including in the current school finance case.
Supporters of the amendment said it was needed because the court had no business directing the Legislature to increase school funding. But opponents said the measure would destroy the independence and power that the judiciary needs.
The measure was advanced 73-49, but will need 84 votes - two-thirds of the House - to pass when it is considered today.
As frustration mounted during the session, Sebelius called on the House to make progress, specifically to adopt the Senate's school funding plan.
"What a surprise," Speaker Mays responded. He said Sebelius, a Democrat, has not met with him since the session started Wednesday.
"I thought maybe she was in the Caribbean and faxing out her statements," he said.
Mays said the House was making progress, and that he was conferring with Republicans, who outnumber Democrats 83-42, in trying to get a majority for a school plan.
But Senate Democratic Leader Anthony Hensley of Topeka blamed the House's slow work on Mays, who has said he would run for governor next year.
"Unfortunately, the speaker is delaying action, squandering the taxpayers' money, and excluding House Democrats and moderates from this critical discussion. It is time that the speaker quit pandering to the right-wing fringe," Hensley said.
Copyright 2018 The Lawrence Journal-World. All rights reserved. This material may not be published, broadcast, rewritten or redistributed. We strive to uphold our values for every story published.