Wichita — Technological advances in aircraft engines and avionics are slashing the costs of business plane ownership, making small jets as affordable as turboprop and piston twins.
That bodes well for the nation's battered aviation industry, and especially for manufacturers like Cessna Aircraft Co., which is months away from certifying its new Citation Mustang jet.
The prototype for the cabin-class, six-passenger jet took its first test flight in April. First customer delivery is slated for late 2006. The planes will be built at Cessna's Independence plant, where the company will gradually add 500 jobs by 2007.
With 230 firm orders for the Mustang, the plane quickly became the fastest-selling jet in Cessna's history after its mock-up was introduced at the 2002 National Business Aviation Assn. convention.
"For initial introduction the immediate impact was the greatest single-product introduction that we have ever had. ... It validated that there is a market out there at that price point," Cessna CEO Jack Pelton said. "But more importantly, it validated that we are bringing into the market the right product."
The aircraft has been so popular with buyers that the next available slot for customer delivery is 2009, said Roger Whyte, senior vice president for marketing.

Cessna, a Textron Inc. subsidiary, believes the available market for such cabin-class aircraft to be 14,000 planes - an entry-level business aircraft market now dominated by turboprops and piston twins.
At a price of $2.39 million, the Mustang costs $3 million less than a typical single-engine, turboprop plane - while offering buyers the speed, altitude and performance of a jet, said Steven Saflin, Mustang program manager.
"One of the reasons we were able to bring the Mustang to market to start expanding into that lower end of the market was really technology driven," Pelton said.
Pelton credited the development of the Pratt & Whitney PW615f engine and the Garmin G1000 avionics technology for allowing Cessna to build the lightweight Mustang around a "must-cost philosophy" that ensures profit margins comparable to its higher-priced Citation jets.
"This isn't a loss leader, it's not a thinly margined airplane," Pelton said. "We attacked it the same as any product we bring into the market that is going to have healthy returns."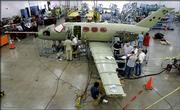 Cessna is sizing its production facilities in Independence to build as many as 150 Mustangs a year, but the market will dictate whether Cessna will reach that production rate on the Mustang, Pelton said.
The Mustang - which will be certified for single-pilot operation - already has proven far more popular with international buyers than bigger, heavier jets.
Roughly half of the orders the company has received for the Mustang have come from overseas buyers, Pelton said. That compares to other Citation jets, where 77 percent of those orders come from North America, with 13 percent coming from South America and 3 percent Asia.
"One of the things it has done for us is it has really opened up the European market, and one of the things it will continue to do for us is open up additional international markets," Pelton said.
The Mustang will be far less expensive than other jets to operate in Europe, where airport fees are based on the weight of the aircraft, he said.
"We are trying to bring new people to jet ownership - make jet ownership more affordable," Whyte said.
Unlike the customized Citations manufactured in Wichita, the lower-cost Mustang will offer minimal options and planes will be churned out fairly quickly.
The company anticipates it will take six to seven months to build each one, and expects the new plane will eventually account for between 20 and 25 percent of its annual jet production.
Cessna expects to complete FAA certification for the Mustang in the fourth quarter of 2006. It has certified 10 airplanes in the last 10 years, Saflin said.
Production of the Citation CJ3, Excel and Sovereign models began last year in Wichita. A new plane, yet to be announced, also will be built in Wichita, Pelton said.
Even in the wake of the 2001 terrorist attacks, Cessna also built two huge service centers in Orlando, Fla., and Wichita.
"During what people were nervously hunkering down and wondering what the future looked like, we did not back off," Pelton said. "We did not waiver on any of our committed investments."
Copyright 2018 The Associated Press. All rights reserved. This material may not be published, broadcast, rewritten or redistributed. We strive to uphold our values for every story published.