City prosecutors confirmed Friday that they have dropped charges against a Lawrence nightclub owner accused of violating the city's smoking ban because the case was no longer worth their time, they said.
But Dennis Steffes, owner of Coyotes and Last Call, said city prosecutors dropped the charges against him because they were afraid that if the case proceeded, the city's smoking ban may be ruled unconstitutional.
"It was a game of chicken, and they swerved," Steffes said about the city's action.
Steffes said he would ask Douglas County District Court Judge Jack Murphy to allow the case to continue because the dismissal of the charges does nothing to address Steffes' arguments that the ban is unconstitutional.
"I have been in business in this town for 22 years," Steffes said. "I'm tired of just fading out and going away. This (ban) was the straw that broke the camel's back. I'm going to see this through. We have to reach a compromise on this."
City Prosecutor Jerry Little, though, said the city's decision to drop the charges had nothing to do with a fear of losing in court.
"We looked at this from a cost-benefit analysis, and it is just not worth the $100 fine that is at stake," Little said. "We don't want to waste the court's time here. But we're prepared to defend the constitutionality of the ordinance, if that is what is needed."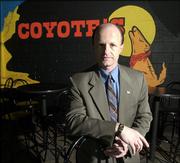 But, Little said, the city's position is that Steffes no longer has legal standing to make the constitutional challenge, since there are no longer charges pending against him.
Steffes said that was a weak argument by the city because all he needed to do to regain legal standing was to be cited again for a violation of the city's ban on indoor, workplace smoking.
"It is not hard to get a violation," Steffes said. "We can accomplish that tonight."
In April, Steffes faced five counts of violating the city's smoking ban by allowing patrons to smoke in his two Lawrence nightclubs. Municipal Court Judge Randy McGrath found Steffes not guilty on four of the five counts. Steffes appealed his conviction on the one count and argued as part of his defense that the city's smoking ban was unconstitutional. He said the ordinance was unconstitutionally vague and improperly superseded applicable state laws.
Murphy is scheduled to hold a hearing in District Court at 2:30 p.m. Tuesday on whether the case can proceed.
Proponents of the city's smoking ban said they were not disappointed by the city's decision to drop the charges.
"I think the city has learned a lot about the need to do a little more legwork before they file charges," said Dr. Steven Bruner, a physician who has lobbied for the ban. "If he (Steffes) chooses to flaunt the law all over again, they'll be able to put together a much better case."
Bruner also said he didn't think the city had anything to worry about regarding the constitutionality of the ban.
"The Kentucky Supreme Court put it most plainly, recently," Bruner said of a 2004 decision upholding a ban in Lexington. "It said that it is not just the right, but the responsibility of all levels of government to protect the public's health. That's what this ban is doing."
Copyright 2018 The Lawrence Journal-World. All rights reserved. This material may not be published, broadcast, rewritten or redistributed. We strive to uphold our values for every story published.