City commissioners Tuesday held up on approving changes to the city's smoking ban after a Lawrence bar owner said he felt the city was unnecessarily trying to make it easier to convict business owners of violating the ban.
Rick Renfro, owner of Johnny's Tavern, 401 N. Second St., told commissioners that he was upset that city staff members were proposing to change the city's smoking ordinance in a way that could shift the burden of proof onto business owners.
"I don't think it is fair, I don't think it is right, and I don't think it is the right way to try and do business," Renfro said.
The proposed change would affect the ability of bar owners and other business operators to use as a defense that they simply did not see someone who was smoking in their establishment. Under the current ordinance, city prosecutors have to prove that the business owner saw the person but took no action to stop the smoker. Under the proposed ordinance, bar owners would have to prove that they didn't see the smoker.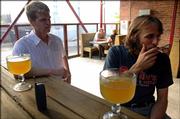 "It shifts the burden to prove that I'm innocent instead of the city proving that I'm guilty," said Phil Bradley, executive director of the Lawrence-based Kansas Licensed Beverage Assn., who has lobbied against the smoking ban.
City commissioners ultimately decided to delay action on the proposed changes to give staff members time to discuss possible wording changes with representatives of the bar and restaurant industry.
The proposed changes come after Lawrence bar owner Dennis Steffes was found innocent in April on four of five counts that he violated the ban by allowing patrons to smoke in his two establishments, Coyote's Night Club, 1003 E. 23rd St., and Last Call, 729 N.H. Municipal Court Judge Randy McGrath refused to convict Steffes on the charges because he believed the city had not proven that Steffes knew about and ignored the smoking in those four cases. Steffes was convicted on one charge. He's currently appealing that conviction in Douglas County District Court.
Staff members told city commissioners that the change was needed because there had been some concerns expressed by fire inspectors who enforce the law that some business owners would simply turn a blind eye to a smoker unless an inspector was in the business at the time someone was smoking.
"We added this (language) to prevent people who are violating the ordinance from playing games or not taking the ordinance seriously," said Toni Wheeler, a staff attorney for the city.
A prominent supporter of the smoking ban, though, also told city commissioners that it may be better for them to just leave well enough alone. Dr. Steven Bruner said he had been out to several bars and restaurants since the ban took effect nearly a year ago and said that he was "amazed" at how well business owners had been following the law. He said he was concerned the new language could make the ordinance more susceptible to being found invalid by a court.
"I want the ordinance to be enforceable, and I don't want the ordinance to be flaunted, but I really, really don't want this ordinance to be thrown out on a technicality," Bruner said.
Bar owners did agree that other proposed changes to the ordinance would help them. In particular, one change spells out that business owners would not be prosecuted if they could prove that they asked individuals who were smoking inside to stop and then called the police if they ultimately did not stop or refused to leave the premises.
Commission advances homeless-related items
A trio of ordinances that would address several complaints that downtown merchants have about activity related to the homeless and other individuals received preliminary approval.
City commissioners directed staff members to do some minor tweaking of ordinances related to aggressive panhandling, blocking the city right-of-way and camping on public and private property. Commissioners were all in favor of an ordinance that would prohibit aggressive panhandling.
Four of the five commissioners were in favor of ordinances that would prohibit people from sitting or laying on the sidewalk in a way that makes it difficult for people to travel, and prohibit camping on city-owned parks or private property without the consent of the owner. Mayor Boog Highberger said he had concerns with the camping and right-of-way ordinances. He said he thought the city should continue its policy of giving a warning to people camping in city parks. He also said the right-of-way ordinance seemed overly broad.
Commissioners agreed to put the ordinances on a future agenda for final approval.
$140,000 approved for growth-cost study
Commissioners agreed to spend nearly $140,000 on a study designed to determine which types of growth do not pay for themselves.
Commissioners on a 4-1 vote gave the Maryland-based firm of TischlerBise approval to move ahead on a study of fiscal impacts of growth. The study will look at different types of development and determine how much revenue and costs they generate for the city.
City Commissioner Mike Amyx opposed the study, saying he wasn't comfortable spending that amount of money for a study that he believes will recommend adding controversial impact fees and other user fees.
Author's home placed on historic register
Commissioners without much discussion agreed to place the former Lawrence home of author William S. Burroughs on the Lawrence Register of Historic Places.
Members of the city's Historic Resources Commission had previously recommended that the bungalow at 1927 Learnard Ave. be added to the register.
Copyright 2018 The Lawrence Journal-World. All rights reserved. This material may not be published, broadcast, rewritten or redistributed. We strive to uphold our values for every story published.