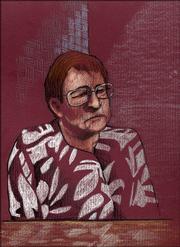 A judge on Monday reversed her earlier ruling that prohibited the Lawrence Journal-World from publishing sketches of two adult witnesses in a first-degree murder trial.
District Court Judge Paula Martin ruled Monday that sketches of defendant Martin K. Miller's former mistress, Carrie Parbs, and his friend Laura Cuthbertson could be published despite their requests not to be sketched.
Martin said she initially thought the two were covered by a Kansas Supreme Court rule that states a judge can order that a "witness of a crime" not be photographed in court if the person does not want to be.
But upon further research, Martin said, neither fit the legal definition of being a "witness of a crime."
In making the decision, Martin continued to rely on rules that govern electronic and photographic media coverage of court cases. The newspaper argues that those rules are incorrectly being applied to sketches and that the judge's decisions are an infringement on the First Amendment right to freedom of the press.
The newspaper is still asking the Kansas Supreme Court to overturn a related decision by the judge, which prohibited the newspaper from sketching or publishing sketches of Miller's two children, ages 14 and 12, who testified for the prosecution. The Supreme Court has yet to decide whether it will hear that argument.
Copyright 2017 The Lawrence Journal-World. All rights reserved. This material may not be published, broadcast, rewritten or redistributed. We strive to uphold our values for every story published.