Overland Park — Shareholders for Sprint Corp. and Nextel Communications Inc. vote next month on the companies' proposed $35 billion merger - a combination that would cap Sprint chief executive Gary Forsee's two-year campaign to transform the telecommunications company from a struggling also-ran to one of the industry's leaders.
It's been far from easy for Forsee, who returned to the company in 2003 after a four-year stint at BellSouth. He inherited a company in turmoil after its top two executives, CEO Bill Esrey and chief operating officer Ron LeMay, were forced out over questionable tax shelters in their personal finances.
In addition, the company had barely survived the bruising economic battles in the industry following the dot-com crash, and a wave of cost-cutting - including laying off 17,000 employees over the previous year and a half - had sapped morale at the company's 200-acre suburban Kansas City campus.
Breaking it down
But Forsee - a Kansas City, Mo., native who spent a decade at Sprint in the 1990s - came home and hit the ground running. In the first six months, he decided to improve the company's outreach to customers by melding its myriad divisions into two: focused on business customers and regular consumers.
"I was part of the legacy, part of the understanding in how this company was built, so it was very comfortable at one level to come back in and then have a chance to ... take the company's performance to the next level," Forsee said.
Next, he began hacking at the company's longtime roots in the local and long-distance telephone business, refocusing Sprint as a strictly wireless provider and offering consumers bundles of services, ranging from simple cell phone voice service to high-speed Internet and even Internet-based telephone service in combination with cable companies.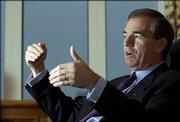 Now, he stands at the threshold of a consolidation that will place him in command of not only the third-largest cell phone operator in the country but a peer competitor to industry leaders Cingular Wireless and Verizon Wireless.
Since Forsee's return, the company's stock has more than doubled, and revenues last year increased 4.7 percent to $27.4 billion.
Risks still lingering
The transition is not over or risk-free. Part of the merger involves spinning off Sprint's local telephone service - the fifth largest with 7.6 million access lines in 18 states and $4.5 billion in revenue - to a separate company.
Roger Entner, a Boston-based telecommunications analyst with Ovum, said those local customers, as well as Sprint's long-distance business, helped pay for the years of investment that made the company's foray into wireless possible.
"While it's not a sexy business, it has been the cash cow of the company," Entner said. "Wireless is the future, but it's always nice to have a parachute."
Forsee, 55, has spent 33 years in telecommunications, including periods at Southwestern Bell and AT&T.; He joined Sprint in 1989, working up the ladder in long distance, business services and wireless, before leaving for Atlanta-based BellSouth in 1999 to eventually help run its Cingular Wireless joint venture with SBC Communications.
Pulling the trigger
Forsee's first big decision was to simplify Sprint's corporate structure, which had become confusing and inefficient as it was built around various products and services instead of customer groups.
Forsee pulled the trigger on a plan that had been discussed internally for some time to rebuild the company around two divisions, one providing services to business customers and the other targeting the general consumer market. Providing a unified vision allowed Sprint to offer bundles of products to each market, hoping the packages of cell phone, local and long-distance calling and high-speed Internet would keep a customer from moving to a competitor.
The next big change came last summer when, for the first time in Sprint's history, more than half of the company's revenues came from wireless. Sprint leads the industry with customers spending an average of 17 hours a month on their cell phones, many of them downloading lucrative extras, like ring tones, video games or using their phones to surf the Internet.
When Forsee announced that the company would stop marketing long distance to businesses outside of package deals, it was clear he envisioned a new Sprint.
"All of those (cell phone extras) are services that three years ago you wouldn't think about being on an easy-to-use wireless device that you can also use to make voice phone calls," Forsee said.
Forsee said the Nextel deal came about after Cingular Wireless's announced acquisition of AT&T; Wireless showed the need for Sprint to get bigger or get lost in the dust.
Forsee says the merger is still on schedule to close during the third quarter, but that he knows that will be just the beginning of his work.
"Our ability to be successful is all about execution," he said. "I think this is a multi-trillion-dollar industry. We're going to be a player. We're going to be a force."
Copyright 2018 The Associated Press. All rights reserved. This material may not be published, broadcast, rewritten or redistributed. We strive to uphold our values for every story published.