PHILADELPHIA, MISS. — A brother of the man accused in the 1964 deaths of three civil rights workers took the stand Saturday in his defense, saying the defendant was at a Father's Day gathering that day and never indicated he was in the Ku Klux Klan.
"Until he tells me so, I won't believe it," said Oscar Kenneth Killen, 74.
His brother, Edgar Ray Killen, 80, a part-time preacher and sawmill operator, is being tried on the first-ever state murder charges in the killings of Andrew Goodman, Michael Schwerner and James Chaney. He faces life in prison if convicted in the case that helped spur passage of the landmark Civil Rights Act of 1964.
Prosecutors wrapped up their case Saturday with testimony from Chaney's mother, Fannie Lee Chaney. She testified that her son went to join the other two in delivering books.
"He never come back," she said.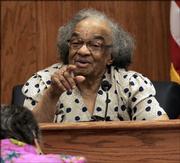 Fannie Lee Chaney, who now lives in New Jersey, said she moved from Mississippi in 1965 after receiving threats that including one by a man who said he would dynamite her house.
She said another caller told her "I wasn't going to be there long before I be put in a hole like James was."
The defense called four witnesses Saturday - including Oscar Kenneth Killen and a sister, Dorothy Dearing, who both testified Killen attended a family Father's Day meal until late in the afternoon of June 21, 1964, the day the three civil rights workers were killed.
Oscar Kenneth Killen testified that he saw his brother at a funeral home that night.
The slain men, who were helping register black voters, had been stopped for speeding, jailed briefly and then released, after which they were ambushed by a gang of Klansmen. They were shot, their bodies found 44 days later buried in an earthen dam.
After the initial defense witnesses, the trial was recessed for the weekend.
Copyright 2018 The Associated Press. All rights reserved. This material may not be published, broadcast, rewritten or redistributed. We strive to uphold our values for every story published.