Washington — Highly classified documents leaked in Britain appear to provide new evidence that President Bush and his national security team decided to invade Iraq much earlier than they have acknowledged and marched to war without dwelling on the potential perils.
The half-dozen memos and option papers, written by top aides to British Prime Minister Tony Blair, buttress previous on-the-record accounts that portray Bush and his advisers as predisposed to oust Saddam Hussein when they took office - and determined to do it at all costs after the Sept. 11 terrorist attacks.
Blair is Bush's closest global partner, and the documents, startlingly frank at times, were never meant to become public.
Now they have rocketed around the Internet and been seized on by opponents of the Iraq war as evidence that the president and his administration were not leveling with the American people about their war preparations.
By mid-March 2002, a year before the invasion of Iraq, top British officials were already so resigned to a war that they seemed preoccupied mostly with building international support and finding a legal justification.
That was just six weeks after Bush declared Iraq a member of the "axis of evil."
But Blair's advisers repeatedly expressed concern that the case against Saddam was weak and that the White House wasn't giving nearly enough attention to what would happen after he was toppled.
"The U.S. government's military planning for action against Iraq is proceeding apace. But as yet, it lacks a political framework. In particular, little thought has been given to creating the political conditions for military action, or the aftermath and how to shape it," stated a July 21, 2002, briefing paper prepared for a meeting of Blair's advisers two days later.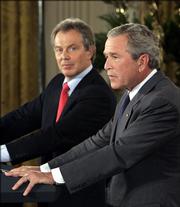 Bush and Blair forcefully denied in a news conference this month that they were fixated on war.
"There's nothing farther from the truth. My conversations with the prime minister were how can we do this peacefully," Bush said. "We worked hard to figure out how we could do this peacefully."
Neither the U.S. government nor the British government has disputed the memos' authenticity.
The release of the documents comes at a bad time for Bush. He faces growing congressional and public unease after 27 months of war in Iraq. Opinion polls show public support for the Iraq war at or near all-time lows.
The White House maintains it tried to avert war almost until the last minute.
Despite the outcry over the British documents, which have come to be known as the "Downing Street memos," much of what they say was known - or knowable - at the time, Mann said.
It's well documented that Bush began looking at military options for overthrowing Saddam's regime as early as November 2001, with formal military planning beginning early in 2002.
In a March 22, 2002, letter to British Foreign Secretary Jack Straw, Blair political adviser Peter Ricketts advised steering the public rationale for war away from "regime change."
"'Regime change' does not stack up. It sounds like a grudge between Bush and Saddam," Ricketts wrote.
Four days after the Sept. 11 attacks, during a crisis meeting at Camp David, Wolfowitz argued for attacking Iraq in response, as first recounted in journalist Bob Woodward's book "Plan of Attack."
Richard Clarke, at the time a veteran White House counterterrorism official, has written that Bush ordered him to look for the same evidence the day after the attacks.
Later that month, Wolfowitz helped arrange a trip by former CIA Director James Woolsey to the United Kingdom to look for evidence of an Iraqi role in 9-11.
The search for evidence, along with claims about Iraq's weapons of mass destruction programs, continued for more than a year.
No Iraqi link to Sept. 11 has been found, and most of the intelligence about Saddam's weapons of mass destruction has since proved to be bogus.
In his own letter to Blair three days later, Straw also seemed to question the scale of the threat. "In the documents so far presented, it has been hard to glean whether the threat from Iraq is so significantly different from that of Iran and North Korea as to justify military action," he wrote.
Copyright 2018 The Lawrence Journal-World. All rights reserved. This material may not be published, broadcast, rewritten or redistributed. We strive to uphold our values for every story published.