St. Joseph, Mo. — Corky sat on the lectern at the Faith United Baptist Church on a recent Sunday morning. Well behaved and dressed up in a pinstriped vest and red tie, he made a funny face when his mother slicked down his too-red hair with spit grease.
"How are you doing today, Corky?" asked his mother, Sharon Curren.
"I'm sick," Corky said in a voice as squeaky as a screen door. "I'm sick of the Sunday school teacher."
"Who was the Sunday school teacher?" asked his concerned mother.
"You were," said Corky smartly.
And the whole congregation broke into laughter.
Corky is a ventriloquist's puppet but he's no dummy.
Curren won't let anyone call Corky that. Besides, he has a real name.
"His real name is Cornelious Obediah Canwalder," she said proudly. "Cornelious because it's biblical, Obediah because it's a book of the Bible and Canwalder because he 'can walder' through anything and come out pretty good."
That's a lesson Corky learned from his mother. Or perhaps the instruction never to give up is something they learned from each other.
Senses of purpose
The 59-year-old St. Joseph woman was diagnosed with colorectal cancer in 1996. And for a time she let the illness drain some of the happiness from her life, she said.
But during that time she also found God and Corky. With help from both she gained the strength to combat her fears while helping bring hope into the hearts of others.
Corky became part of her ministry.
She takes him and other puppets to churches, nursing homes and other places to share a message of hope.
Working with Corky also gives Curren's husband, Jay, purpose, he said. He helps his wife with her scripts and helps set up the stage for her shows.
After he was diagnosed with lung cancer last year, working with Corky also has given him a sense of hope.
His cancer is in remission now, too.
"It gives both of us a purpose to go ahead," Jay Curren said. "It gives a purpose to her life with her doing that and me working with her."
Useful imagination
Ever since Sharon Curren was a young girl she's always had a vivid imagination.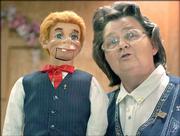 Growing up and spending part of her childhood in both Grayson, Mo., and St. Joseph, she said that two of her best friends were her doll and wagon. Two friends she still keeps to this day - hanging in her backyard shed.
"I used to talk to my little doll like she was real. The little doll and the wagon became a big part of my life," she said.
After she grew up, got married and moved to Oklahoma City, Sharon Curren used her imagination to entertain her two daughters.
She made sock puppets and put on front-porch shows to entertain her two daughters and their neighborhood friends. That was how she first became smitten with puppetry, she said.
"I thought this is kind of neat all these kids coming from all over," she said. "I got to looking in stores and different places and magazines at different puppets and I became real infatuated with puppets and I wanted a real hand puppet."
She found a real hand puppet and her future husband, Jay, both at the same time.
Puppet parties
Both Jay and Sharon Curren were married before. Both of their former spouses are deceased.
Jay Curren sold household and other items for the Jewel Tea Co. in Oklahoma City at the time. Every other week he'd drop by Sharon's home and show her the stuff he had for sale that week.
"She was looking at the basket and I had this stuffed puppet on my hand and she grabbed it right off my hand," Jay Curren said. "That was it. She got started on that puppet and she went downhill from there."
Eventually Sharon Curren would amass more than 200 puppets. After they moved to St. Joseph, she started getting paid for putting on puppet shows for private parties, American Legion posts and other organizations.
"I did a lot of Christmas parties and things like this," she said. "I did puppets all over for a long time."
But after she was diagnosed and treated for cancer, Sharon Curren found she could no longer work with her puppets. Puppetry required long hours on bent knees - something the disease would not allow her to do anymore.
Switch to ventriloquism
During that time she met a woman who introduced her to the church. And with a newly found faith she discovered a new mission. She could no longer do her puppets but she could do something.
"I had been looking at ventriloquist dolls, looking at books for a long time," she said.
And if she got a doll she would be able to sit down while performing her shows. Only this time she would not charge for her shows, she decided. She would use her dolls to bring the word of God and minister to people.
So with tax refund money her husband bought her a doll she had been wanting as a birthday present.
She named him Corky.
"She picked out what she wanted on him, the moving eyes, eyebrows and the shaking hands," Jay Curren said. "All the years I've known her that was the year she was happiest with what I got her."
"Corky was the highlight of my world," she said. "I could hardly wait to do something with him."
Growing collection
Sharon Curren got a book at the library and taught herself how to be a ventriloquist.
Today she has 12 different voices she can use for her more than 50 puppets and dummies. She can even do two voices at a time.
Corky is still her favorite, but she has other puppets she uses for different situations, she said.
Red is a little puppet with an attitude problem, so if I run into somebody who says 'I wish my little girl or my little boy didn't have this terrible attitude they've got,' I go get Red," she said. "Pretty soon we solve Red's attitude problem, which this little child relates to."
Copyright 2018 The Lawrence Journal-World. All rights reserved. This material may not be published, broadcast, rewritten or redistributed. We strive to uphold our values for every story published.