A heated outdoor playhouse.
A finished wine cellar in the basement.
A formal living room with walnut-and-oak hardwood floors and gold-inlay foil - that's right, real 24-karat gold - on the ceiling, reflecting the sunshine that radiates through tall windows overlooking Alvamar Country Club's lake and No. 5 fairway, considered by many the course's signature hole.
Jon Gittins knows he's got a lot to sell, and he's not even mentioning the seven bedrooms (each with its own bathroom) or the three fireplaces, three-car garage, four staircases or eight-person hot tub built into the deck outside.
No wonder he doesn't blink when mentioning the home's as-yet unattainable asking price: $1.295 million.
"Nothing over $1 million has ever sold in Lawrence," said Gittins, a Realtor with Lawrence Realty Associates. "When one does sell it's going to be an anomaly, but it will happen. There are people out there looking, and they want something that suits their size and what they need.
"It will happen - I'm confident it will - but it's just a matter of when."
Gittins, hoping to sell his parents' home in Alvamar, isn't alone in his quest.
Seven homes in Lawrence are listed for sale at more than $1 million, the most ever. They range from $1.195 million to $2.499 million, all within the borders of a town where the average home sold last year for just over $178,000.
While $1 million is a price point that isn't all that uncommon for new custom homes built in exclusive areas such as The Reserve at Alvamar and Fall Creek Farms, it does remain stubbornly elusive on the resale market. One of the listings has been active for nearly four years.
The reason such homes haven't moved yet goes beyond simple economics, said Lisa Ramler, president of the Lawrence Board of Realtors.
"If I want to have a million-dollar home, more than likely I'm going to build," said Ramler, a Realtor with Realty Executives Hedges Real Estate. "Generally speaking, anyone who wants a million-dollar home, just to avoid the hassle, they're going to build their own."
Bargain at $1.4 million?
But with construction costs escalating, mortgage interest rates declining and the nation's real-estate market still hot, owners of some of the city's priciest real estate have high hopes for breaking through the seven-figure sales barrier.
Photo Gallery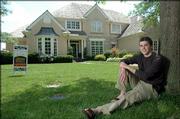 Million-dollar homes
View the enlarged photos to see more information about the houses.
Their homes line golf courses, overlook lakes, offer views of the Wakarusa River Valley and provide the privacy of heavily wooded lots. The interiors spare little expense, whether it's for zoned heating and air-conditioning systems or heated garages, all-home surround sound, central vacuum systems, radiant-heat bathroom floors and split-second hot water supplies.
Sellers are loading up such perks, features and locations in building what they hope are deals that prove too good to pass up.
Even at $1.495 million.
"It's got every luxury that one could imagine," said Jason Todd, listing agent for 100 Fall Creek Road, which includes a winding mahogany staircase, circle drive, full kitchen in the basement and an automatic pool cover strong enough for a football player to walk across. "And it's a different neighborhood than the other houses. It's not a golf course lot, but who else lives in Fall Creek (Farms)? You've got one of our more popular coaches (Bill Self) living in Fall Creek, and one of our more famous ex-basketball players (Danny Manning) living in Fall Creek. It's value for the money."
History isn't a concern for Todd, who figures that Lawrence finally is entering an inevitable era for sales of $1 million homes. Some custom residences built for $800,000 five or 10 years ago finally are poised to turn over, he said, and it's only logical that their prices are climbing into seven figures, he said.
Once one place sells, he said, others should soon follow.
"It's like trying to knock a wall down," said Todd, of Realty Executives Hedges Real Estate. "Once you knock that first brick out, the wall comes down."
Beyond compare
Larry and Carrie Sinks have come the closest to breaking through. In 2003, they paid $990,000 for a seven-bedroom, six-bathroom home overlooking Alvamar Country Club's No. 8 green, a purchase that still ranks as Lawrence's most expensive resale.
Now they want to make history again, this time from the seller's side. They're listing the home at 4216 Nicklaus Drive for $1.35 million.
"Whenever we run into builders or appraisers, we get a lot of, 'Man, we need to sell something over a million dollars,'" said Carrie Sinks, a Realtor at Coldwell Banker McGrew Real Estate. "There aren't any comps. There have been a lot of custom-built homes for more than a million, but nothing resale. The banks have a hard time figuring out what to do when people come in looking for a loan."
Carrie Sinks thought she was close to getting an offer last month, but the prospective buyer from the East Coast didn't commit - leaving her and competing property owners to wonder just who might be able to afford one of the seven most expensive listings in town.
"It's going to be an out-of-town buyer," she said, noting that an executive transferring into Payless ShoeSource or Hill's Pet Nutrition in Topeka would be a good bet. "That's not to say people in town can't afford it - there's a bank on every corner, so there's definitely money in Lawrence - but it'll probably be someone from out of town."
On Sunday, Linda Trotter welcomed 10 couples for a two-hour, invitation-only open house at the city's most expensive listing, a $2.499 million home overlooking the No. 4 green at Alvamar Country Club. Trotter, a Realtor for Coldwell Banker McGrew Real Estate, had mailed 300 postcard invitations for the event, all to households with incomes of more than $500,000.
Most of the invitations went to homes in Johnson County, she said. Others were scattered about Parkville, Mo. - a growing town that is home to The National, an exclusive community built around a course designed by Tom Watson - and in pockets of Topeka and Lawrence.
None of the couples were looking to buy right away, Trotter said, but she's thinking that they might know someone who could be in the market.
"It's going to take a special buyer," Trotter said.
Connie Friesen serves as listing agent for the next two most expensive properties on the market: 1718 Lake Alvamar Drive, listed for a dollar shy of $2 million; and 2010 Hogan Drive, for $1.6 million.
There's been interest in the home that backs up to Lake Alvamar, she said, but nothing that has reached the contract stage. And the home on Hogan has drawn two offers that didn't work out.
The market is catching up, she said. One home in Lawrence recently sold for $775,000, and another went for $769,000, enough to convince Friesen that someone eventually will come up with the money to enter the million-dollar club.
"I see the activity. There's showing activity on all of them," Friesen said. "It could happen tomorrow. It could happen in six weeks. It could happen in six months. : It's what a buyer's willing to pay and what a seller's willing to sell for."
Breaking new ground
Such a sale would be the first ever for Gittins, who joined Lawrence Realty Associates three months ago and within a month had scored his first listing: his parents' $1.295 million place, the home he'd moved into in 1998.
"It's a nice little listing to start out with," said Gittins, who turned 20 this month.
Gittins spent a semester at Kansas University before leaving school to become a Realtor, hoping to follow in the footsteps of his late father, Terry Gittins, who spent years as an accountant and executive before turning to real estate.
Having already been a buyer's agent on two homes - his clients spent $190,000 for one place, and $98,000 for another - Jon Gittins figures he's on the right track.
"I'll put it out there, plain and simple: I didn't want to do school anymore, and I wanted to make money," he said. "I couldn't handle just getting back a grade card. I wanted a check."
If he could manage to close the city's most lucrative resale in history, he'd figure to bank about $15,000 for his share of the seller's commission, good enough to cover his expenses for a couple years.
"Or I may have to go to Mexico for a while," he said, with a chuckle.
Copyright 2018 The Lawrence Journal-World. All rights reserved. This material may not be published, broadcast, rewritten or redistributed. We strive to uphold our values for every story published.