Pinehurst, N.C. — Happy just to be here?
Olin Browne doesn't buy into that for one second.
And don't let that happy-go-lucky smile fool you. Neither does Jason Gore.
They are two players whose world rankings are deep into triple figures. They both had to go through grueling qualifying just to make it to the U.S. Open.
They played with the leaders in the third round Saturday and when the day was over, they were still right there, still focused, determined, contending for a title - one surprise after another.
"----, yeah!" Gore shouted after his 15-foot birdie putt dropped on No. 18 to put him at 2-over 72 for the day, even par for the tournament and three shots behind the leader, Retief Goosen.
"I expected to come to this tournament and play well," Gore said. "Maybe this is a little out of the realm, but I expected to play well."
Browne, a 46-year-old journeyman, also shot 2 over to finish three behind Goosen.
There were many times where he could have collapsed, no more than after a pair of bogeys over the first three holes, one of which came after he hit an approach shot to 2 feet on No. 3, only to have it roll cruelly off the side and into the bunker.
He kept grinding, waiting for his chance - and then it came. He made birdies on Nos. 15 and 17, a pair of par-3s, each time following Goosen to the tee and answering the South African's sweet tee shot.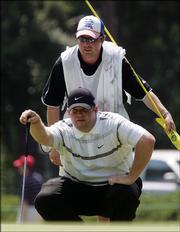 Is he having fun out there, as everyone keeps urging him to do this week?
"If they're telling you they're having a good time, they're lying to you," Browne said. "The only guy having a good time is the guy who taps in that last par to win the trophy."
That it could be either of these guys is part of what makes the U.S. Open so special.
It's an open tournament - open to any pro or low-handicap amateur who can make it through qualifying; open to anyone in the 156-player field patient enough to grind through the sun, the rough, the wind and the bad breaks for four straight days.
With Goosen, a two-time champion, in the lead, the task might seem insurmountable for players like Browne and Gore. But Saturday, it was Browne who played with the Goose and hung in there. Today, it will be Gore's turn in the final pairing. He has seen enough crazy bounces during the first three days to believe anything's possible, even for a guy ranked 818th in the world.
"There are a lot of guys who really don't have too much to lose," Gore said. "Including me."
Despite their relative anonymity leading into this week, these guys have careers and, they hope, bright futures.
Browne has two PGA Tour victories to his credit, but has spent the past few years struggling and falling to No. 300 in the world rankings. He made a small splash last week when he shot a 59 in qualifying to make it to the Open, but came to Pinehurst No. 2 as an afterthought, lumped in with all those faces golf fans recognize from somewhere, but probably couldn't pick out of a lineup.
Gore, meanwhile, has the sense of humor, the John Dalyesque physique and the mile-wide smile that make him a guy people want to root for.
Through the early hours, he soaked it in, acknowledging fans who cheered for his home state, California, and even his favorite beer, Pabst Blue Ribbon, the label of which was embroidered on his caddie's cap.
"It's nice to be out there knowing people have your back," he said.
Copyright 2017 The Associated Press. All rights reserved. This material may not be published, broadcast, rewritten or redistributed. We strive to uphold our values for every story published.