When Derek Jeter walked to home plate with the bases loaded in the sixth inning Saturday, he had gone 5,770 at-bats during 11 major-league seasons without a grand slam.
"I thought I'd never hit one," he said.
Jeter finally filled one of the few gaps in his resume, connecting off Chicago Cubs reliever Joe Borowski for a home run to left-center that broke the game open. Cheered even more loudly than usual by the Yankees fans who idolize him, Jeter added a solo shot in the eighth, backing a stellar start by rookie Chien-Ming Wang in an 8-1 victory that extended New York's winning streak to five.
It was Jeter's first home run in 136 at-bats and 155 plate appearances with the bases loaded. The Yankees captain had the most at-bats with the bases loaded without a slam among current major leaguers, and his 156 homers coming in were the most without a slam by active big leaguers.
His teammates wouldn't let him forget that.
"It's usually after I get out. I'd come back and they'd say, 'Well, we thought you were going to hit one,'" Jeter said.
He had been aware of his grand slam drought since April 22, 2002. Mark McLemore hit his first one in his 5,349th at-bat and told Jeter about the stat when the Yankees arrived four days later in Seattle.
Philadelphia's David Bell, who hasn't homered in 118 at-bats with the bases loaded, now has the longest drought, according to the Elias Sports Bureau. Tampa Bay's Alex Gonzalez has the most homers without a slam, 132.
"I'd be lying to you if I said I didn't feel good right now," Jeter said.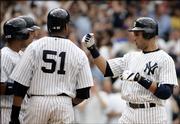 Fans demanded a curtain call, and Jeter was given another standing ovation when he went out to shortstop for the seventh as third baseman Alex Rodriguez gave him a pat on the rear. With his name being chanted loudly in the eighth, Jeter hit a leadoff homer off Cliff Bartosh, a drive just over the wall in right-center. Jeter tied his career high of five RBIs and had the seventh multihomer game of his career.
Orioles 7, Rockies 2
Baltimore - Sammy Sosa hit his 583rd home run to tie Mark McGwire for sixth place on the career list, highlighting a six-run fourth inning that carried Baltimore past Colorado. Sosa's homer off Byung-Hyun Kim was an opposite-field shot that cleared the 25-foot scoreboard in right field.
Baltimore's Rafael Palmeiro singled twice to move within 21 hits of joining Hank Aaron, Willie Mays and Eddie Murray as the only players in major league history to have 3,000 hits and 500 homers.
White Sox 5, Dodgers 3
Chicago - A.J. Pierzynski's two-run homer capped a four-run rally in the ninth inning, and Chicago beat Los Angeles to win its third straight. Carl Everett and Aaron Rowand had RBI singles in the ninth off Dodgers closer Yhency Brazoban, who is filling in for injured Eric Gagne. The loss was a season-high fifth straight for Los Angeles, and it spoiled an impressive return by Elmer Dessens.
Dessens, who hadn't pitched since April 19 because of a bone spur in his right shoulder, gave up only an unearned run and two hits in six innings, striking out four and walking one. Duaner Sanchez pitched two scoreless innings to preserve the lead, but Brazoban (2-2) couldn't hold it.
Cardinals 5, Devil Rays 2
St. Petersburg, Fla. - Albert Pujols homered in support of Matt Morris, helping the St. Louis right-hander remain unbeaten. Morris (8-0) allowed two runs and five hits in eight innings and retired 15 of the last 16 batters he faced. The Devil Rays had one hit - Carl Crawford's eighth-inning triple - after the third.
Tigers 8, Giants 2
Detroit - Brandon Inge hit a leadoff homer and a two-run double, and Jason Johnson recovered from a rough start to pitch eight strong innings in Detroit's victory over San Francisco. Inge, Omar Infante and Ivan Rodriguez each had three hits for the Tigers, who claimed their fourth victory in five games.
Indians 3, Diamondbacks 1
Cleveland - Scott Elarton pitched well in his first start in 10 days, and Travis Hafner homered as Cleveland beat Arizona, extending its winning streak to eight games. The Indians have won 11 of 12 since June 4 and have their longest streak since winning 10 in a row in April of 2002. Elarton (4-2) had not pitched since June 8, and fell behind 1-0 in a 24-pitch first inning.
Padres 7, Twins 2
Minneapolis - Ryan Klesko had four hits and three RBIs in support of Brian Lawrence, who pitched San Diego past Minnesota to end the Padres' five-game losing streak. Klesko got San Diego started with a solo homer, his 12th, in the first inning. The Padres, just 4-12 in June, finished with 16 hits.
Pirates 2, Red Sox 0
Boston - Humberto Cota doubled off the Green Monster to score the tiebreaking run in the eighth inning, and Pittsburgh snapped a five-game losing streak. Dave Williams and two relievers combined to snap Boston's five-game winning streak and hand the Red Sox their first shutout of the season. Boston had been the last team in the majors to score in every game.
Rangers 7, Nationals 4
Arlington, Texas - Mark Teixeira hit two of Texas' four home runs - all in the first two innings - and the Rangers beat Washington. Teixeira had a two-run homer in each of the first two innings and later added a double. His second homer of the game and 19th of the season gave the Rangers a 7-0 lead against Tony Armas (3-4).
Brewers 5, Blue Jays 2
Toronto - Ben Sheets outpitched Roy Halladay in a matchup of two-time All-Stars, leading Milwaukee over Toronto. Carlos Lee and Geoff Jenkins homered for the Brewers, who have won just two of their last nine games. They held a players-only meeting after Friday night's loss. Jenkins ended a career-worst 0-for-29 slump with a homer off Miguel Batista in the ninth. Sheets (3-6) allowed two runs - one earned - and seven hits in eight innings.
Mariners 4, Mets 1
Seattle - The Mariners beat Pedro Martinez for the first time in 14 starts, scoring all of their runs in the fourth inning in a victory over New York. Martinez (7-2) allowed four runs and nine hits in six innings, falling to 13-1 all-time against the Mariners. He had been 6-0 with a 0.77 earned-run average at Safeco Field, and was holding Seattle to a .164 batting average in his career.
Angels 2, Marlins 1, 10 innings
Anaheim, Calif. - Vladimir Guerrero hit his second home run of the game in the 10th inning, giving Los Angeles a victory over Florida. The reigning AL MVP tied the score with a shot in the eighth off Jim Mecir, spoiling Dontrelle Willis' bid to become the first 12-game winner in the majors.
Athletics 2, Phillies 1
Oakland, Calif. - Kirk Saarloos recovered from Jimmy Rollins' leadoff homer to shut down Philadelphia. Scott Hatteberg and Dan Johnson each drove in a run for the A's. Ricardo Rincon worked two scoreless innings, his longest outing in seven years.
Copyright 2018 The Lawrence Journal-World. All rights reserved. This material may not be published, broadcast, rewritten or redistributed. We strive to uphold our values for every story published.