Just say no.
That should be all downtown pedestrians have to do to fend off panhandlers, under an ordinance up for Lawrence City Commission approval Tuesday night. Panhandlers who get in people's faces, repeatedly ask for money or touch people would be subject to fines and even jail time if the ordinance is approved.
The ordinance has its supporters both on the commission and among downtown merchants.
"No should mean no," City Commissioner Mike Amyx said. "If somebody approaches somebody and asks for change and the person says no, that should be the end of it. I think we need something like that. If you want to have a strong downtown, you have to have something on the books."
Commissioners also will consider two other ordinances: one regulating how a person can lie or sit on the sidewalk or other public rights of way, and one that would prohibit camping in parks and other public places.
Several downtown merchants had pushed for tougher ordinances after watching people aggressively panhandle, sleep in doorways, set fire in alleys and camp on the roofs of downtown buildings.
"I had several customers complain to me that they were afraid to come downtown," said Peter Zacharias, owner of Goldmakers, a jewelry store at 723 Mass. "I think they (city staff) have done an excellent job with the ordinances. It is only one part of the package, though. You have to have enforcement, but right now we have no credible ordinances to enforce."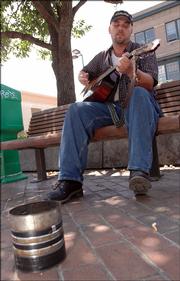 Reaction to the proposed ordinances was mixed among members of the homeless community.
"They have got to have more important issues to worry about," said Celeste Perkins, a Lawrence resident currently looking for a home. "Housing is one of them. Most of those things aren't even a problem here. I think they're thinking of a different city."
The panhandling ordinance would continue to allow panhandling in most places. The ordinance would not apply to street musicians who are not verbally asking for money.
The penalties for all three ordinances can range from fines of $1 to $1,000 or jail time up to 180 days. Penalties will be handed out in municipal court.
Zacharias said that was the one portion of the ordinances he didn't agree with. He said monetary fines or jail time would not serve as an adequate deterrent to homeless individuals. If individuals were convicted, he said, they should temporarily lose access to certain homeless services such as soup kitchens or shelters.
Loring Henderson, director of the Lawrence Community Shelter, said he disagreed. His facility has banned about 25 individuals for inappropriate behavior; jail time, he said, probably would be more of a deterrent.
"I don't think many people look at jail as a way to get a roof over their head," Henderson said. "It takes them away from their support system. It takes them away from their friends, the people they hang out with. Going to jail takes away a lot of important things to them."
Rick Edwards, who has been homeless since November, said he didn't have a problem with the city enacting the aggressive panhandling ban, but said he was concerned about prohibiting camping in parks. He said he thought that would leave many people without a legal place to go when the city's two shelters are full.
"I guess we would just have a lot of people in jail," Edwards said.
Commissioners will discuss the ordinances at their meeting at 6:35 p.m. Tuesday at City Hall, Sixth and Massachusetts streets.
Proposals on begging, loitering, fires
The Lawrence City Commission will consider three ordinances Tuesday that deal with homeless issues: ¢ The first ordinance would ban "aggressive panhandling." It would prohibit repeated attempts to solicit money from the same individual, along with touching them or blocking their path. Panhandlers also would be banned from soliciting within 20 feet of an automatic teller machine, at a bus stop or anyone who is in a vehicle. ¢ The next ordinance would make it illegal to lie or sit on a sidewalk in a way that blocks the path of a pedestrian or requires pedestrians to reroute their course. The ordinance does have exceptions for protests and other activities protected under the First Amendment. ¢ The last ordinance would prohibit camping in city parks or other city-owned property. The ordinance specifically addresses the starting of fires to cook with or to stay warm. That pleased several downtown merchants, who had complained about a series of fires in alley trash bins and on the stoops of front and back doors of their businesses.
Copyright 2017 The Lawrence Journal-World. All rights reserved. This material may not be published, broadcast, rewritten or redistributed. We strive to uphold our values for every story published.