Jane Creighton has big plans for the field-fresh strawberries she and her husband, Horace, grow at River Bluff Gardens, near Pomona.
"I've ordered an electric ice cream freezer, and I can go and get real cream from Newhouse Dairy in Wellsville. And I'm going to fix a batch of strawberry ice cream that'll add 10 pounds to everyone's derriere," she says.
"It's true - I'm just waiting for the ice cream freezer to come in."
But you don't have to grow strawberries to love them. They're one of those fruits that almost everyone enjoys.
"I like them because they're sweet and pretty. They're bright red, and they remind me of summer," says Maggie Little, 25, of Lawrence.
She likes them plain, sliced up and served with cream or prepared as strawberry shortcake.
Or one other way.
"My mom makes this strawberry pizza thing. There's a crust, then a layer of cream cheese and strawberries, then strawberry paste," Little says.
"You make it in a big pizza pan - that's why we call it strawberry pizza. She only makes it when company comes."
Count Trisha Tatum, 26, of Spring Hill, as another strawberry fan.
"They're sweet, tangy and refreshing, with cream or right off the vine," she says.
"The ones you grow at home are smaller and sweeter than the ones you get at the grocery store - if you can get them before the rabbits do."
Those who grow strawberries in and around Lawrence say their crops took a major hit in late April and early May, thanks to several late freezes.
Some growers report losing a good share of their berries, while others fared better. They planted a variety of strawberry plants that bloom and yield fruit at different times, thus evading some of the damage wrought by frost.
But even with the setback dealt by Mother Nature, many area growers and farmers markets will have plenty of the ruby-red fruit to go around.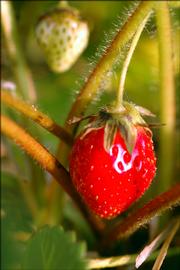 In the Lawrence area, strawberries likely will remain in season for a couple more weeks.
Surviving the freeze
Strawberries are among the crops grown by John and Sharon Veseky at Buckets of Berries, their farm near Baldwin.
This hasn't been such a good year for them, though.
"The frost got all the early ones. There was one (freeze) about the third of May and one a day or so before that and one in late April," John Veseky says.
"It kills the blooms. We lost three-fourths of them. The rest came on after the frost; we started picking a week ago yesterday."
How do they look?
"Well, they're good, what's there. But we're about done (picking)."
Customers at Buckets of Berries can pick their own fruit. Strawberries cost $1.75 per pound.
Even though he has more access to fresh, homegrown strawberries than most people, Veseky never tires of them.
"I eat them about any way. Strawberry shortcake, or raw by the berry. That's what I had for breakfast this morning," he says.
The strawberry crop got off to a rocky start at the berry farm owned by Gary and Karen Lawson, located one and a half miles east of Vinland.
The reason: the late freezes.
"It kills off the blooms, and the frost was timed so that when we had our blooms, that's when the frost came. We still have quite a few strawberries, though, because blooms come on at different times," says Kevin Lawson, 23, the son of Gary and Karen.
The Lawsons sell a 16-ounce container of strawberries for $3.25.
"The rest of our berries (such as blackberries) don't bloom until summertime rolls around, when there's really no chance for frost," Kevin says.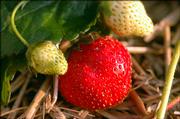 Bright, luminescent red
Some farmers who grow strawberries weren't hurt too badly by the late freezes.
Like Paul Johnson, owner of East Stonehouse Creek Farm, located 15 miles northwest of Lawrence, in Jefferson County.
"What I did at least three times was go out and take the hay or mulch that I put in the walking rows and lift it back to cover those berries and plants overnight," Johnson says.
He belongs to Rolling Prairie Farmers Alliance, a co-op of six farmers. The co-op delivers a bag of fresh produce each week to about 330 subscribers, roughly 170 of whom live in Lawrence.
"We've surveyed our customers for years, and strawberries are just behind raspberries as a favorite item," Johnson says.
"I sold 80 pints yesterday, through Rolling Prairie, and a few on the side. I'm hoping to do that again for Monday."
Johnson planted about a thousand strawberry plants a year ago, and they've all sent out runners. Now he's got four 250-foot-long rows, with each row two- to three-feet wide.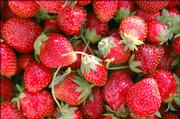 He figures that translates to 10,000 to 12,000 strawberry plants - all of which need picking.
"That's what I'm doing now. It's what I do full time in summer" Johnson says.
He doesn't mind.
"I like that bright, luminescent red. They're a fun fruit to sell. They're good for you, if they're treated right and grown right," Johnson says.
"But they're a lot of labor; you don't do this from a tractor cab."
Strawberry salsa
2 tablespoons oil
2 tablespoons lime juice
2 tablespoons red wine vinegar
2 tablespoons fresh chopped mint leaves
2-3 tablespoons fresh chopped cilantro
1 jalapeno pepper, seeded and minced
1/4 teaspoon salt
1 pint strawberries, hulled and chopped
1/4 cup diced pineapple
1/2 cup chopped sweet onion
Combine oil, lime juice, vinegar, mint, cilantro, jalapeno, pepper and salt in medium bowl. Toss in strawberries, pineapple and onion. Serve or grilled chicken or pork. Makes 2 1/2 cups.
Source: "Tea Time Traditions: Recipes, Tips, Memories and Tidbits," by Brenda Hyde, www.preparedpantry.com.
Strawberry ice cream
1 1/2 cups whole milk
1 1/2 cups whipping cream
1 vanilla bean, split lengthwise
9 egg yolks
1 cup plus 2 tablespoons sugar
6 cups strawberries, hulled (about two 1-pint baskets)
1/4 cup light corn syrup
6 fresh whole strawberries
Combine milk and cream in heavy medium saucepan. Scrape in seeds from vanilla bean; add bean. Bring to simmer. Remove from heat. Cover; let steep 1 hour.
Bring milk mixture to simmer. Whisk yolks and 1/2 cup sugar in medium bowl. Gradually whisk in hot milk mixture. Return mixture to saucepan and stir over medium heat until custard thickens and leaves path on back of spoon when finger is drawn across, about 10 minutes (do not boil). Strain into bowl. Cover and refrigerate custard until cold.
Puree 6 cups berries, corn syrup and 1/2 cup plus 2 tablespoons sugar in processor. Mix puree into custard. Process custard in ice cream maker according to manufacturer's instructions. Transfer to container and freeze. (Ice cream can be prepared 2 days ahead.) Makes about 8 cups.
Source: Bon Appetit, May 1998, www.epicurious.com.
Strawberries and Oranges in Basil Syrup
1 1/2 cups water
3/4 cup sugar
1/4 cup thinly sliced basil
2 pounds (about 2 1/2 pints) strawberries
4 oranges
Prepare the syrup by bringing the water and sugar to a boil and then cooking just until clear, 2 to 3 minutes. Let the syrup cool very briefly and add the sliced basil. Set aside to steep and cool while you prepare the fruit.
Wash the strawberries, remove their caps and cut them in quarters if normal sized, or sixths if very large. Cut away the orange peel, being careful to remove all of the bitter white pith. Working over a mixing bowl to catch any juice, cut the oranges in sections, leaving behind the membrane that separates the sections.
Add the strawberries to the orange sections and juice and pour the syrup over. Refrigerate at least 30 minutes before serving. Serve this dessert with sugar cookies to dunk in the leftover syrup. Makes 8 servings.
Source: Los Angeles Times, 2005.
Strawberry Vacherin
1 1/2 pounds (about 1 1/2 pints) strawberries
1/4 cup sugar, divided
1 tablespoon orange liqueur
2 cups whipping cream
2 ounces meringues (about 6, 2-inch, round meringues)
1/2 cup toasted sliced almonds
Wash the strawberries, remove their caps and slice them.
In a bowl, gently stir together the strawberries, 2 tablespoons sugar and the orange liqueur. Set aside.
Beat the whipping cream with the remaining 2 tablespoons sugar until soft peaks form. Cut each meringue in half crosswise and then vertically.
Stir the strawberries once more and add them to the whipped cream. Add the meringues and gently fold together just until combined.
Divide the mixture among 8 (1/2 cup) serving dishes. Sprinkle each serving with 1 tablespoon toasted almonds and refrigerate at least 1 hour before serving. Makes eight servings.
Source: Los Angeles Times, 2005.
Copyright 2018 The Lawrence Journal-World. All rights reserved. This material may not be published, broadcast, rewritten or redistributed. We strive to uphold our values for every story published.