Washington — Senators eyeing the White House are a well-heeled lot.
Republican leader Bill Frist, the Tennessee heart surgeon whose father founded a hospital chain, has blind trusts valued between $7 million and $35 million, a significant chunk of cash if he opts to use some of his finances to start a 2008 presidential bid.
Sen. Hillary Rodham Clinton, D-N.Y., earned nearly $2.4 million in book royalties from her memoirs while receiving income from a blind trust valued at $5 million to $25 million that she holds jointly with her husband, former President Clinton.
The Clintons, who once owed millions in legal fees to lawyers who argued their case in Whitewater and impeachment investigations, have paid off the last of those debts.
Details about senators' monetary gains, losses, overseas travel, exotic gifts - even a Hollywood turn - are contained in the annual financial disclosure forms that provide a glimpse into lawmakers' personal lives and bank statements.
Overall, the Senate lived up to its reputation as the millionaires' club, with several potential presidential candidates clearly in the top tax brackets.
"It sounds like we're not seeing any downturn in the fortunes of senators. They continue to do well," said Larry Noble, head of the campaign-finance watchdog Center for Responsive Politics.
Several senators have their wives to thank for any bottom-line increase in the family checkbook. Franki Roberts, wife of Sen. Pat Roberts, R-Kan., and Tricia Lott, wife of Sen. Trent Lott, R-Miss., bought and sold stocks through their Meager Means Investment Club. Roberts valued her 60 stocks at $70,000-$879,000.
Mrs. Clinton's spouse improved their financial outlook. The Clintons reported $5 million to $25 million in a joint bank account, thanks in part to the former president's speaking fees and his memoir.
While Frist has millions in a blind trust, he also disclosed a major liability: a line of credit at Suntrust Bank of $1 million to $5 million.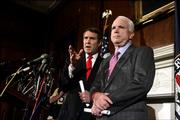 Last year, he listed a $50,000 to $100,000 credit line at the bank. Nick Smith, a spokesman for Frist, said the senator is renovating his father's former Tennessee home, which Frist moved into several years ago, after his father died.
Another possible Republican presidential candidate, Sen. Sam Brownback of Kansas, has a blind trust worth $1 million-$5 million as well as bank accounts, stock and a 335-acre grain farm in Linn County in the eastern part of Kansas. The farm generated $7,530 in income last year.
As a fallback, Brownback owns a Washington, D.C., condominium and he rents a room to fellow Republican Sen. Jim Talent of Missouri, at a cost of $2,500-$5,000 annually.
Sen. John McCain, R-Ariz., who fell short in his 2000 bid for the GOP presidential nomination but is expected to try again in three years, had several media contracts stemming from the film version of his book, "Faith of My Fathers."
McCain also will hit the big screen this summer. The senator listed an agreement with Avery Pix, Inc., to appear in the movie, "The Wedding Crashers," with Owen Wilson, Vince Vaughn and Christopher Walken. Money that McCain makes from the July movie - slogan, "Life's a party. Crash it" - will go to designated charities.
Democratic Sen. John Kerry, the unsuccessful 2004 presidential candidate who also may make another run, listed four trusts valued at $430,000-$2.56 million as well as page after page of his wife's holdings. Teresa Heinz's wealth is estimated at more than $500 million.
Copyright 2018 The Associated Press. All rights reserved. This material may not be published, broadcast, rewritten or redistributed. We strive to uphold our values for every story published.