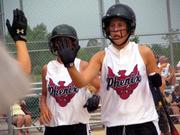 Even though it is more than 20 miles away from where many of the players on Randy Fyler's 16-U Phenix team live, Mid-America West in Shawnee has pretty much been the team's home.
The squad started off the season with a Memorial Day weekend tournament at the facility. After the first week's league games were rained out, Fyler-Phenix started off their league June 8 at Mid-America West.
This past weekend, the team returned to Shawnee for another tournament. Phenix-Fyler originally planned to go to Derby for a tournament, but after it fell through, the team was able to find a spot closer to home at a tournament at Mid-America West.
"The kids were disappointed, but we get to stay home," Fyler said. "It just happened to be that there were good tournaments close to home."
The change in plans works out for two of the players who had planned to take the ACT test on Saturday.
"They were going to jump in the car and hightail it down to Wichita. So it saves a lot of time for them because 30 minutes after the test they can be there," Fyler said.
The 30-minute drive is much shorter than the trip to Derby would have been, but the mid-week travel appeared to have an impact on the team during its first league game, which started at 6 p.m.
"We didn't get it going early," Fyler said.
Since the league doubleheaders start at 6 p.m. each Wednesday, busy work schedules and the 30-minute drive make it a challenge to get to the field with sufficient time to warm up.
"They are used to high school ball, when they start to warm up one hour before game time," Flyer said. "We need to start playing on the first pitch instead of two innings later."
Despite getting off to a slow start, the team came from behind to win their first league game June 8.
"It's kind of exciting the way it happened," Fyler said.
Chelsea Carnagie pitched the first two innings for the Phenix-Fyler against the DeSoto Belles, who took a 9-7 lead with solid hitting and a couple of Phenix errors.
In the final inning, Phenix-Fyler took advantage of walks, errors and timely hits to get back into the game.
Summer Mulford drove in the tying run during a two-out rally, and after Phenix-Fyler loaded the bases and the Belles made a pitching change, Hannah Somers slid into home on a passed ball for the winning run.
Severe weather ended the second game of the doubleheader in the second inning. Across the complex, the first games of both Phenix-Riling and Phenix-Tanner were canceled, too.
Although he likes to see his team have success, Fyler takes a more laid-back approach to the weekly league games, using them to help his team learn what they need to improve on.
His philosophy for league games is "if you win fine, but if you don't that's fine, too."
"It's a great way to poke at something in the middle of the week," he said.
Fyler takes pages of notes after each game and tries to focus on two or three things to teach during the next practice or game.
Mulford, Carnagie and Duquense Sprow will supplement the team's pitching staff, which Fyler speculates could possibly be six deep if needed.
The pitchers, especially Mulford and Sprow, have contrasting styles, something Fyler finds to be helpful for his staff.
Mulford is a tall right-hander who plays in the outfield or ignites the team's energy in the dugout when she is not pitching. Sprow, who threw for the Free State High junior varsity team this season, is a short southpaw with promising potential.
"They have two completely different angles and completely different pitches," Fyler said. "It's good to have."
Phenix-Fyler hopes to use the familiarity of playing at Mid-America West to its advantage in tournaments this summer. Playing at the facility helps the team to not only provide similar surroundings but similar opponents.
For example, the Hot Shots is a team that Phenix-Fyler will have many opportunities to face during Mid-America West tournaments. They beat the Hot Shots, 3-2, in the Memorial Day tournament and were slated to play the team again in tournament last weekend.
So far Fyler has been satisfied with the progress his team has made.
"We have fit together fairly quickly," Fyler said. "We want to be competitive and have good ball games."#
Copyright 2018 The Lawrence Journal-World. All rights reserved. This material may not be published, broadcast, rewritten or redistributed. We strive to uphold our values for every story published.