In one photo, Martin K. Miller is smiling and wearing a suit and tie.
In another, he's reclining with his arms extended, wearing nothing but a blindfold and a pair of black leather shorts.
Prosecutors showed jurors the two images back-to-back Tuesday during opening statements of Miller's first-degree murder trial, to illustrate what they say was Miller's double life: one as a religious man involved in his church and his children's Christian school, the other as a sex addict and pornography connoisseur who wanted relationships with other women.
There was one main impediment, prosecutors say, to Miller's alternative lifestyle.
"His wife of 25 years stood in the way," assistant Dist. Atty. Brandon Jones told jurors.
Miller, 46, owner of The Carpenter's Shop and a former president of the board for Veritas Christian School, is charged with strangling his wife, Kansas University librarian Mary E. Miller, on July 28 at the family's home in the 2100 block of Carolina Street.
Defense attorney Mark Manna argued it's possible, based on autopsy evidence, that Mary Miller could have died of a heart attack.
"Marty Miller is innocent," Manna told jurors during his opening statement.
Miller's trial is expected to involve about 30 witnesses and last until the end of next week.
Defense view
Prosecutors plan to show jurors pornographic photos found on Miller's computer and photos that document the affair he was having with a Eudora woman, Carrie Parbs.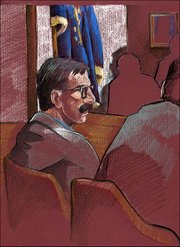 "They were involved in kinky sex. There was bondage. There was spanking, and there were many pictures taken," Jones said.
But Manna said that, as a religious man, Miller would have known that killing someone instead of getting a divorce was unacceptable.
"Committing a greater sin doesn't make a lesser sin right," he said.
Miller initially told police that he went to bed, woke up about 2 a.m., and went to sleep on a recliner, leaving his wife in the bedroom. He then woke up about 6 a.m. to find her dead.
Story changes
Lawrence Police officer Jim Welsh testified Tuesday that shortly after he arrived at the home, the couple's two junior-high-aged children said they'd heard their mother's muffled screams during the night and had heard their father in the bedroom with her. Initially, Welsh said, Miller denied that it was his voice in the bedroom.
The reason Miller didn't initially tell police he'd been in the bedroom, Manna said, was that he was scared and felt guilty because he hadn't realized that his wife was in medical distress.
Miller's version of what really happened that night, Manna said, is that Miller went to sleep on the recliner, woke up because he had to urinate, walked to the bathroom near the master bedroom, sat down on the toilet, and fell asleep.
He was awakened by his wife screaming as if she were having a nightmare, Manna said, and he went into the bedroom to comfort her.
"She was gasping for breath, and he told her, 'Shh. Calm down. It'll be all right,'" Manna said.
Daughter testifies
Miller's daughter, Melodie, a Veritas Christian School student, testified that on the night of her mother's death, she was awake until about 12:15 a.m. chatting on a laptop computer in the living room. When she heard someone moving in another part of the house, she shut the computer and ran into bed because she didn't want to get in trouble for being up too late.
As she lay in bed pretending to be asleep, she said, she saw someone who appeared to be her father look in her doorway, then heard someone boot up the computer in the next room.
Prosecutors say that about that time, Miller did an Internet search for terms including "deepest 'sleep pattern.'" Manna's explanation was that Miller was concerned about his own sleep because of hip problems and a migraine.
Melodie Miller testified that she awoke hours later and heard her mother's muffled screams. She said her mother was saying, "no," "please" and "don't."
She testified that in the days after her mother's death, her father pulled her and her younger brother aside and told them police would come up with one of three scenarios: Either she died of natural causes, an intruder killed her, or he killed her.
Melodie Miller said she didn't recall whether, at that time, her father denied a role in the killing.
"I remember him saying that the police were going to try to peg it on someone," she said.
She also testified that shortly after Martin Miller was released on bond after his arrest, $500 disappeared from her savings account and $500 disappeared from her brother's savings account. She said she didn't think her father could take money legally from her account because only her name and her mother's name had been on the account.
Crime scene evidence
Prosecutors showed close-up photos of Mary Miller's body during testimony by Lawrence Police crime-scene detective Jim Martin. She had foam coming from one nostril and a streak of blood on her face that Martin said also had come from a nostril.
Martin testified there were no signs of forced entry to the home or a struggle in the bedroom. Books sat undisturbed on a bookshelf on the headboard of the bed, and a guitar case leaning against the bed hadn't been knocked over.
Testimony is expected to continue this morning. During testimony Tuesday, Judge Martin ordered a sketch artist from the Journal-World to stop drawing pictures of Melodie Miller.
- Staff writer Eric Weslander can be reached at 832-7146.
Copyright 2018 The Lawrence Journal-World. All rights reserved. This material may not be published, broadcast, rewritten or redistributed. We strive to uphold our values for every story published.