Shelley, England — Archaeologists trying to exhume the remains of the sister of one of the founders of the first permanent English settlement in North America have found what they believe is her 400-year-old burial shaft and hope to find her body soon.
They want to use DNA from the remains to find out whether a skeleton unearthed in Virginia is that of Capt. Bartholemew Gosnold, who oversaw an expedition that led to the founding of Jamestown in 1607.
British and American researchers began digging Monday beneath the floor of the 12th-century Church of All Saints, where Gosnold's sister, Elizabeth Gosnold Tilney, is believed to be buried with her husband.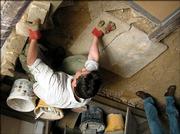 A 17th-century skeleton found two years ago near Jamestown was buried with a decorative staff carried by sea captains and is the right age to be Gosnold's, said William Kelson, director of archaeology at the Association for the Preservation of Virginia Antiquities.
"We know we have the body of a captain," Kelson said. "We are just taking (identification) one step further" with DNA.
Based on records, archaeologists believe Elizabeth Gosnold Tilney is buried underneath the church floor in the English village of Shelley, 60 miles northeast of London.
The inscription in brass on a ledger stone believed to mark the grave has worn off, but archaeologists are confident they have found the right spot.
After raising the stone, the researchers located the burial shaft and are now digging down to locate the graves of husband and wife, who are believed to lie side by side.
If researchers find a female skeleton that matches Elizabeth Gosnold Tilney's profile, they will extract a small portion of tooth or thigh bone for DNA analysis.
Scientists working with skeletal remains can only trace DNA through maternal relatives. A second excavation is under way to recover a DNA sample from Gosnold's niece Katherine Blackerby, whose remains are thought to be in a vault at St. Peter and St. Mary Church in nearby Stowmarket.
Copyright 2018 The Associated Press. All rights reserved. This material may not be published, broadcast, rewritten or redistributed. We strive to uphold our values for every story published.