Dixie Littlesun dropped out of school at 16, returned to get her GED, quit again, returned, quit again, and returned. Now, at 24, she is celebrating.
"You're never too old to do anything, especially go back to school," she said.
Littlesun will graduate today in Lawrence public schools' GED Graduation Ceremony. She will speak at the event, and she plans to tell a bit of her story, the good and the bad.
"Dropping out of school was the biggest mistake of my life," she said.
The Adult Learning Center serves about 350 to 400 students per year, including students in adult literacy and English as a Second Language courses. Each year, between 80 and 100 people receive Kansas State High School diplomas issued through the Kansas Board of Regents, said Linda McGuire, the Center's facilitator.
Twenty people will participate in the ceremony today. Some return to school to improve their literacy. Others go because they need a diploma to enter the workforce. Littlesun wanted to finish what she started.
An Oklahoma native, she moved to Lawrence while in elementary school. She did fine, she said, until high school.
As a teen, she developed an attitude. She and her friends would go to school in the morning. But after an hour or two, they'd walk out. At first, her parents didn't know. But as she missed more school, they found out.
She fought with her family. She missed more school. And the more she missed, the less she cared.
"I lost interest in everything," she said.
And she didn't think she needed school anyway.
"I thought there was something better for me than going to school," she said. "I thought that I didn't need an education."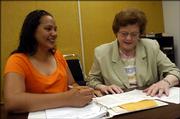 In 1997, the spring of her sophomore year, Littlesun quit.
She picked up jobs in telemarketing making about $8 per hour.
It wasn't what she expected. The real world was tough.
Littlesun, who would have been a '99 graduate, enrolled in 1999 at the Adult Learning Center.
But before she got far at the center, Littlesun discovered she was pregnant. She quit.
School stayed on her mind. She returned in 2002.
But it wasn't easy, either. Littlesun attended night classes. Everyone seemed so young. She felt old, stupid. She kept to herself. She didn't ask for help and didn't get a tutor.
"I felt so embarrassed to be there," she said. "It really frustrated me."
She lost interest and quit again.
Littlesun has two younger sisters she always pressed to stay in school.
"Pushing them to finish school kind of made me realize I needed to do that," she said.
One graduated in 2003. The other in 2004. That year, Littlesun went back to school again. This time was different. She chose daytime classes. She realized the family support that she had had all along and she leaned on it. Relatives helped watch her child. As in 1999, Littlesun became pregnant. But the knowledge only gave her a greater sense of purpose.
She took three weeks off school when her child was born, then she went back.
"I had already been there almost a year," she said. "I wasn't going to just let it go."
Littlesun has already received her diploma. She plans to frame it. But she thought the piece of paper would mean better job opportunities. Those aren't coming so quickly. She stacks doors on semi trucks in the blistering heat. It's sweaty, grueling work.
In the fall, she will take classes at Haskell Indian Nations University. She wants to work in the medical field. In the meantime, she is proud of her accomplishments.
"It's the big completion of my life," she said.
Copyright 2018 The Lawrence Journal-World. All rights reserved. This material may not be published, broadcast, rewritten or redistributed. We strive to uphold our values for every story published.