Toronto — Chris Carpenter had a dominant response for a fan that mocked him in his return to Toronto.
Carpenter pitched a one-hitter in his first start against the Blue Jays since they cut him in 2002, leading the St. Louis Cardinals to a 7-0 victory Tuesday night.
A fan held up a sign that read: "Thanks for four years of frustrating mediocrity Carpenter." Carpenter made a gesture toward the fan as he walked off the mound in the eighth and after he gave a postgame television interview.
"I tipped my hat to the guy that said 'Thanks for the four mediocre years,'" Carpenter said. "He had a big old sign."
Carpenter (9-4) allowed only Russ Adams' two-out double down the right-field line in the sixth. He watched the replay of the hit on the video board, then closed the game by retiring his last 10 batters.
His previous best outing was a two-hitter April 15, 1999, against Tampa Bay.
"I was thinking about a no-hitter, no question about it. I thought I had a chance," Carpenter said.
The 30-year-old right-hander struck out 10 and walked one for his second shutout of the season and the seventh of his career. He threw 95 pitches, 68 for strikes.
Carpenter said Monday he was shocked when the Blue Jays released him in 2002 after he had surgery to repair a torn labrum in his right shoulder. He pitched six seasons for Toronto, going 49-50 with a 4.83 earned-run average, before signing with St. Louis in December 2002.
He acknowledged he was excited about facing his former team.
"There's no question I thought about it. My wife talked to me about it and people were saying stuff about it," Carpenter said.
He said he didn't know what the reaction from fans would be.
"There were people getting on me, but that comes with the territory. People don't know the whole story with what went down," Carpenter said.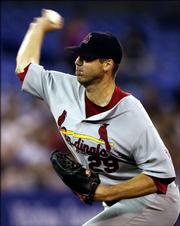 The 6-foot-6, 230-pounder missed all of 2003 because of the troublesome shoulder, but went 15-5 with a 3.46 ERA last season.
"I'm sure the Jays are missing him right now," Cardinals outfielder Larry Walker said.
Braves 7, Rangers 2
Arlington, Texas - Rookie Kelly Johnson hit his first major-league homer, and 46-year-old Julio Franco also connected in a five-run fifth inning to help Atlanta beat Texas.
Jorge Sosa (3-0) allowed two runs and five hits in five innings in his first start of the season after 21 relief appearances. He struck out seven and walked none.
Adam Bernero and Chris Reitsma combined to limit Texas to no runs and four hits over the final four innings.
Diamondbacks 10, White Sox 4
Chicago - Troy Glaus homered and drove in four runs, Shawn Green hit a two-run shot, and Arizona routed Chicago. Glaus was 3-for-4 with two runs scored and his 16th home run, while Green, the reigning National League Player of the Week, was 2-for-4.
Diamondbacks starter Javier Vazquez (7-4) allowed three runs on seven hits in eight innings with 10 strikeouts.
After scoring eight runs against Jose Contreras in Monday's series opener, the Diamondbacks knocked out Orlando Hernandez (7-2) during the fifth.
Twins 4, Giants 3, 11 innings
Minneapolis - Shannon Stewart's two-out RBI single in the 11th inning lifted Minnesota over San Francisco. Michael Cuddyer led off the 11th with a broken-bat single off Jeff Fassero and advanced to second on a sacrifice bunt by Brent Abernathy.
Two batters later, Stewart blooped a single off Tyler Walker that landed just in between second baseman Ray Durham and center fielder Jason Ellison in right-center field.
Twins starter Johan Santana gave up three runs, six hits and struck out seven in eight innings. Jesse Crain (6-0) worked a scoreless 11th to get the win.
Red Sox 7, Reds 0
Boston - David Wells held Cincinnati hitless for 52â3 innings before leaving after seven innings of one-hit ball, and Manny Ramirez homered for the third consecutive game to lead Boston over the Reds.
Wells (5-4) struck out five and allowed two walks to win his third consecutive decision. He also hit Sean Casey in the right elbow in the third inning - the Reds' only baserunner in the first five innings.
Wells retired Dane Sardinha on a fly ball to center field for the second out in the sixth before Ryan Freel lined a single to right-center to end the no-hit bid. Mike Timlin and Keith Foulke each pitched a perfect inning to complete the one-hitter.
Luke Hudson (1-1) allowed three runs on four hits and three walks, striking out five in five innings.
Indians 11, Rockies 2
Cleveland - Jake Westbrook was given rare run support, and Cleveland opened its longest homestand this season with a victory over Colorado. Westbrook (3-9), who has pitched much better than his record shows, allowed two runs and eight hits in seven innings.
Tigers 8, Padres 4
Detroit - Craig Monroe's pop fly was misplayed for two runs in the sixth inning, lifting Detroit over San Diego. With the score tied at 3, Detroit had two men on base with two outs when Monroe popped to left field.
Ryan Klesko misjudged the ball and it fell safely, allowing Placido Polanco and Rondell White to score. Polanco led off with a single, and White walked. Fernando Rodney (1-0) earned the victory. He allowed a run and two hits in an inning of relief.
Orioles 6, Astros 1
Baltimore - Bruce Chen allowed three hits over seven scoreless innings, Miguel Tejada hit his 18th homer, and Baltimore beat longtime nemesis Andy Pettitte and Houston. Larry Bigbie had his second straight three-hit game for the Orioles, who broke open a scoreless duel with a three-run sixth inning that included a two-run shot by Tejada.
Mariners 3, Phillies 1
Seattle - Gil Meche pitched eight strong innings, and Seattle snapped Philadelphia's six-game winning streak. Meche (6-4) allowed one run and two hits, struck out four and allowed just two runners past first. He earned his fourth victory in his last six starts.
Brewers 4, Devil Rays 0
St. Petersburg, Fla. - Tomo Ohka had an impressive debut for Milwaukee, scattering nine hits in his first career shutout. Ohka (5-3) struck out six and walked none in his first outing since being acquired last week from the Washington Nationals for infielder Junior Spivey.
Athletics 5, Mets 0
Oakland, Calif. - Rookie Joe Blanton carried a perfect game into the fifth inning, and Mark Ellis hit a two-run double to lead Oakland over New York. Blanton (2-6), a burly right-hander who outpitched Tom Glavine, didn't allow a baserunner until Marlon Anderson lined a two-out single to right in the fifth.
Nationals 6, Angels 3
Anaheim, Calif. - Jose Guillen hit a two-run homer after Los Angeles reliever Brendan Donnelly was ejected for having a foreign substance in his glove, and Washington beat the Angels. Guillen, a former Angels' outfielder, tied it at 3 in the eighth with a two-run homer off Scot Shields.
Yankees 9, Pirates 0
New York - Mike Mussina pitched a five-hitter, Hideki Matsui homered, and New York beat Pittsburgh in the teams' first meeting since the memorable 1960 World Series.
Copyright 2018 The Associated Press. All rights reserved. This material may not be published, broadcast, rewritten or redistributed. We strive to uphold our values for every story published.