Buenos Aires, Argentina — Hundreds of people could be charged with torture, disappearances and babynapping during Argentina's "Dirty War" against dissidents after the Supreme Court on Tuesday struck down amnesties passed in the 1980s.
For victims, the ruling revived the possibility of justice in cases like that made infamous by the 1985 Oscar-winning movie "The Official Story." For military officers, policemen and doctors with ties to the former dictatorship, it stoked fears of being brought back to court.
Officially, 12,000 people are listed as dead or missing from the 1976-83 military junta crackdown on opponents, although human rights groups say the toll was closer to 30,000. The missing, known as the "disappeared," are presumed to have been slain.
Some 3,000 officers, including about 300 still serving in the armed forces, could be called for questioning, according to human rights groups, which estimated up to 400 of them could face new charges.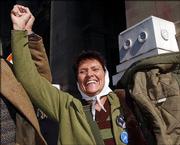 In a 7-1 vote, with one abstention, the Supreme Court voided laws passed in 1986 and 1987 to forbid charges involved in disappearances, torture and other crimes during the dictatorship. The court said the bans were contrary to today's international norms requiring the state to protect human rights and punish abuses.
The ruling came in the case of Julio Simon, a former policeman accused of being involved in the disappearance of Jose Poblete and Gertrudis Hlaczik and of taking their daughter, Claudia Poblete, as his own. Under Argentine law, the decision can be taken as precedent in other cases.
In August 2003, the House and Senate voted to repeal the amnesty laws. But activists had waited for the Supreme Court to make a final decision on the constitutionality of the laws, which effectively ended trials for officers accused of human rights abuses.
After the dictatorship was replaced by an elected government in late 1983, many ranking military officers were tried on charges of abducting, torturing and executing suspected opponents of the former regime. They were imprisoned in 1985 - before amnesty laws took effect - but pardoned by then-President Carlos Menem in 1990.
Those officers were accused of waging a systematic crackdown on leftists and other political opponents who were kidnapped off the streets, tortured and "disappeared."
Many were detained naked and blindfolded in chains while they were tortured with electric prods and drugged before being taken on "death flights" to be thrown into the South Atlantic.
Copyright 2017 The Associated Press. All rights reserved. This material may not be published, broadcast, rewritten or redistributed. We strive to uphold our values for every story published.