When you play good baseball, sometimes things come easy.
The 13-and-under Kansas Rebels certainly had an easy time of things in their game last Thursday.
They defeated the Ravens, 10-2, in a Gold Glove League game at the Prairie Center Complex in Olathe. In accordance with league rules, the umpires called the game in the Rebels' half of the fifth inning when they went up by eight runs.
The Rebels got on the board early in the bottom of the first inning when Cody Amerine singled to drive in Nick Hassig.
The Ravens tied the score in the top of the second inning, but their coach was thrown out in the bottom half of the inning after arguing balls and strikes.
The game went downhill from there as the Ravens issued four walks and committed three errors in the inning and the Rebels' lineup batted around. By the time the third out was recorded, the Rebels had scored seven runs and taken a commanding 8-1 lead.
They added another run in the fourth inning when J.T. Vander Tuig doubled and scored a run. The inning also featured some flashy defense by the Rebels when Hassig made a back-pedaling catch in centerfield to retire the Ravens' leadoff hitter.
Landon Mosely scored the Rebels' 10th and final run in the fifth inning before the game was called.
Vander Tuig led the way for the Rebels with two hits. His performance was especially meaningful because this was only his fourth game back since breaking his arm playing basketball in December.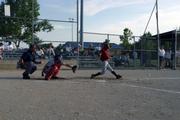 "I had it in a cast for a while and I've doing some rehab and I just got to play for the first time last weekend, so it's been fun," Vander Tuig said.
Chase McElhaney, Drew Noble, Seth Dirks-Ham, Hassig and Amerine also had hits for the Rebels.
The Rebels improved to 8-3 in Gold Glove League play, but the team's main focus is on tournament play. During the summer, they will play 14 league games and about 40 tournament games.
Although the outcome of the game against the Ravens was pretty clear after the second inning, the Rebels coaching staff used the time to prepare for their upcoming tournament games.
"What we try to do in league games is put people in lots of different positions," Rebels coach Paul Vander Tuig said. "I had a different pitcher every inning tonight."
The team will play in three more tournaments this season. They play in the Father's Day Classic this weekend in Basehor, the USSSA AAA State Tournament the weekend of July 1 at the Shawnee County Amateur Baseball Assn. complex in Topeka, and the Super Series National Championship Tournament beginning July 6 in Longmont, Colo.
Copyright 2018 The Lawrence Journal-World. All rights reserved. This material may not be published, broadcast, rewritten or redistributed. We strive to uphold our values for every story published.