They are hardy, aesthetically soothing and often beautiful, and that is why more Kansas gardeners are becoming increasingly interested in growing native grasses, plants and flowers.
The state's native plants won over Shirley Braunlich several years ago. They occupy much of the front and back yards at her Lawrence residence.
"They are going to have a much easier time with the weather fluctuations we have, with the drought and temperature variations and the occasional 3 inches of rain in one day," Braunlich said.
Mary Lynn Stuart, a Douglas County master gardener, agreed.
"It's the sensible approach," she said. "You don't have to water as much; you don't have to maintain as much."
Kansas is home to more than 1,600 kinds of native flowering plants and 180 species of native grass, according to a brochure printed by the Kansas Department of Transportation.
Learning about native plants
Area residents will have a chance Saturday to tour sites where businesses or public agencies in Lawrence have made extensive use of native plants and grasses in their landscaping. The tour is sponsored by the Kansas Native Plant Society, a nonprofit organization that encourages conservation, enjoyment and education about Kansas plants.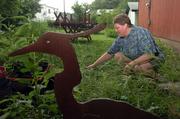 One of the tour stops will be at the city of Lawrence Solid Waste Annex North facility at Industrial Lane and North Third Street. The city took over the building and grounds in 1995. It also houses the city recycling program.
"The building was perfect for our purposes, but the landscaping was next to nothing," said Mollie Mangerich, operations supervisor. "It was pretty bleak. Instead of planting the typical mowable lawn surface we planted natural Kansas perennials and other native flowers."
During the tour Mangerich will talk about the native perennial grasses used at the plant as well as xeriscaping, which is the conservation of water through creative landscaping techniques.
The result has been so good that last year the facility earned the Native Plant Society's 2004 Rachel Snyder Memorial Award. The award is given annually to an individual or group for a project promoting the use of native plants in the landscape. The special recognition, plus the realization by the society members that there were other locations in Lawrence doing the same thing with native plants, led to this year's tour.
Also on the tour is a 50-acre restoration project and wildlife attraction on the Astaris chemical plant grounds, just east of North Ninth and Maple streets. In the mid-1990s employees at the plant worked with the national Wildlife Habitat Council and other federal and state agencies to plant native grasses and plants and do other things that attract wildlife such as coyotes, fox and quail, said Shane Munsch, the plant's environmental manager.
"It's a great shelter for small mammals and birds," Munsch said. "It's what you would find here before there was agriculture. It is very low-maintenance."
The land has more than 1,000 trees and shrubs, Munsch said.
Interest growing
Braunlich, a board member with the Kansas Native Plant Society, became interested in native plants while researching and reading about plants with medicinal value. She now has beds of the grass and plants in her front yard, along the side of her house and into the backyard. Included are patches of the Kansas sunflower and the cup plant, which is a form of the sunflower that has broad leaves that surround the stem and hold water.
Another favorite for Braunlich are her prairie parsley plants. "It has beautiful dissected leaves that sort of look like hands with extended fingers," she said.
Although local garden and plant shops may have some native plants for sale, they don't usually have large selections, Braunlich said. Nevertheless, she thinks interest in the native plants will continue to grow in popularity.
Take a tour
The Kansas Native Plant Society will conduct a tour of native plant landscapes Saturday. The tour is free and open to the public. It will run from 8:30 a.m. to 12:30 p.m.
The tour locations:
¢ City of Lawrence Solid Waste Annex North facility, Industrial Lane and North Third Street. The tour will be by vehicle caravan, and those going on the tour should meet here.
¢ Astaris, east of North Ninth and Maple streets, the 50-acre land restoration site, 9:30 a.m. to 10:15 a.m.
¢ Haskell Indian Nations University Cultural Center and Museum, on the university's campus.
¢ Prairie Park Nature Center, south of 27th and Harper streets.
"I think it is just gaining momentum," she said. "The more people know about them, the more they talk about them with their neighbors and others."
Plants still a mystery
Topekan Jeff Hanson started a Web site in 1997 that contains information about Kansas plants and grasses. He also sells seeds for many plants during certain times of the year. Although he thinks interest in the plants has grown, most people rely on him to decide what plants they should get, he said.
"People just don't know anything about them, or what about what would be good for them," Hanson said.
The extreme weather Kansas has experienced in recent years also may have spurred interest in the native plants, Stuart said.
"I think, because of the drought years and because of more water awareness, there is a tremendous amount of interest and it only makes sense," she said.
Amy Albright, owner of Vinland Nursery, agreed.
"It seems like the more drought we have the more people are interested, especially in prairie natives," she said.
For someone wanting to get started with a garden or flower bed of natural plants, Stuart has a quick suggestion: coneflowers.
"They are the perfect three-season plant," she said. "They are so long-lasting. They are forever."
Copyright 2018 The Lawrence Journal-World. All rights reserved. This material may not be published, broadcast, rewritten or redistributed. We strive to uphold our values for every story published.